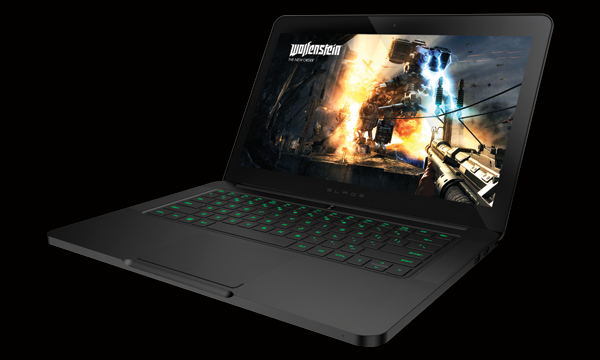 High-end gaming device and peripherals maker Razer has updated its thinnest gaming laptop the Razer Blade, which is now equipped with the highest resolution 14-inch display.
According to Razer, the new Razer Blade now features a stunning 3200×1800 touchscreen display that has a record 5.76 megapixels, sharply exhibiting even the finest details and text with 262 pixels per inch. Razer says the laptop is the only 14-inch laptop with such high resolution display found in the market today.
Instead of just an IPS display, the Razer Blade features the IGZO/IPS (Indium Gallium Zinc Oxide/In-Plane Switching) display panel technology to provide unmatched color and image quality. The result is a 250 percent increase in contrast ratio over its predecessor, with high brightness LED backlighting optimized for outdoor use, wide viewing angles, and dramatically improved video propagation and response.


"The Razer Blade's display minimizes color shift while maximizing uniformity to make gaming more beautiful than ever before possible," according to the company's press material.
The Razer Blade is also equipped with a 10-point capacitive multi-touch screen that works seamlessly with the new touch interface in Windows 8.
"The Razer Blade sets the benchmark by which all laptops should be measured," says Min-Liang Tan, Razer co-founder, CEO and creative director. "The Razer Blade, the world's thinnest and most powerful gaming laptop, now comes with the best 14-inch notebook display on the planet."
As the world's thinnest gaming laptop, the Razer Blade only measures 0.7-inches thin. It is also beefed up with power and now has the latest NVIDIA GeForce GTX 870M GPU.
The Razer Blade is powered by a 4th gen Intel Core i7 processor and uses solid-state storage technology.
Constructed in a rugged all-aluminum chassis, the Razer Blade features a custom-designed track pad and backlit gaming- grade keyboard that has full anti-ghosting capabilities and programmable keys powered by the revolutionary Synapse 2.0 software.
"The Razer Blade laptop screams premium design and top-notch performance, and we are as happy as can be outfitting such a beautiful and powerful machine with our latest graphics processor," says Brian Choi, NVIDIA Sr. product manager. "With nearly twice the graphics horsepower compared to last year's model, the Razer Blade will be one of the most visually stunning, yet portable, gaming laptops the world has ever seen."
The ultra-portable laptop features 8 GB of fast 1600 MHz DDR3L memory and comes standard with 128 GB of total solid-state storage with options for a 256 GB or 512 GB SSD. The Razer Blade also comes with Dolby Home Theatre v4, featuring immersive audio-quality output that is custom-tuned to deliver a cinematic sound experience.
The Razer Blade delivers up to six hours of battery life and includes the latest high-performance 802.11ac wireless connectivity.
The Razer Blade is now available for pre-order. For more information, go to www.razerzone.com/blade.
Price of Razer Blade starts at at US$2,199 / AU$3,199 / SG$3,199 / AED8,499
Availability:    Razerzone.com – Pre-Order Now, Shipping Early April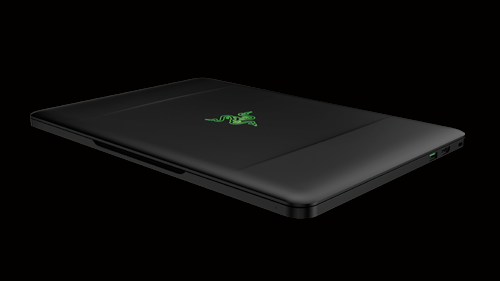 Product features:
• 14.0 in. QHD+ 16:9 ratio, 3200×1800
• IGZO/IPS (Indium Gallium Zinc Oxide/In-Plane Switching) display panel
• LED-backlit 10-point capacitive multi-touch screen
• NVIDIA® GeForce® GTX 870M (3 GB GDDR5) & Intel HD4600 Integrated Graphics
• NVIDIA® GeForce® ShadowPlay™, GameStream™ and Battery Boost™ Enabled
• 4th Gen Intel® Core™ i7-4702HQ Quad Core processor
• 8 GB Onboard Memory (DDR3L – 1600 MHz)
• Windows 8.1 64-Bit
• 128 GB SSD, with optional 256/512 GB SSD (SATA M.2)
• Intel Wireless-AC 7260HMW (802.11a/b/g/n/ac + Bluetooth® 4.0)
• (3x) USB 3.0 port (SuperSpeed)
• HDMI 1.4a audio and video output
• Dolby Digital Plus Home Theatre Edition
• Built-in stereo speakers
• 3.5 mm microphone/headphone combo jack
• Array microphone
• 7.1 Codec support (via HDMI)
• Built-in full-HD webcam (2.0 MP)
• Compact 150 W Power Adapter
• Built-in 70 Wh Rechargeable lithium ion polymer battery
• Razer Anti-Ghosting Keyboard (with adjustable backlight)
• Razer Synapse 2.0 Enabled
• Kensington Lock interface
• 13.6 in. (345 mm) Width x 0.70 in. (17.8 mm) Height x 9.3 in. (235 mm) Depth
• 4.47 lbs. / 2.03 kg