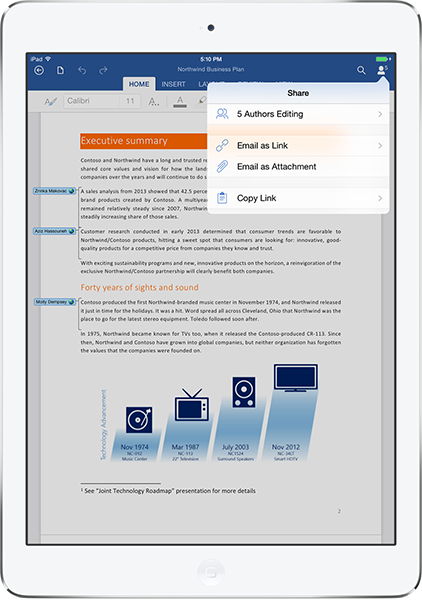 Microsoft Philippines has announced the availability of Office for iPad from the App Store. Built from the ground up, the apps (Word, Excel, and Powerpoint) feature the robust capabilities and the look and feel of Microsoft's popular and widely used productivity tool.
To get these apps installed in your iPad, you need to get an Office 365 subscription, which comes in three flavors:
1. Office 365 Home, which can be installed in 5 PCs or Macs, and 5 tablets, and comes with 20 GB extra storage (OneDrive) each for up to 5 users; the cost is USD 79.99 a year
2. Office 365 Personal, which can be installed in 1 PC or Mac and 1 tablet and comes with 20 GB extra storage (OneDrive) for 1 user; the cost is USD 59.99 a year
3. Office Online, which is the free option is available to anyone with a Microsoft account. It provides 7 GB of free online storage through OneDrive and access to the web-based Word Online, Excel Online, PowerPoint Online and OneNote Online apps. The free Office for iPad  allows you to read Word documents, view Excel data and present with PowerPoint. Then there's also the free Office Mobile, which is also available for iPhone and Android phones. With Office Mobile, you have the ability to view and edit your Office content on the go.  Office Mobile is available in the App Store and Google Play.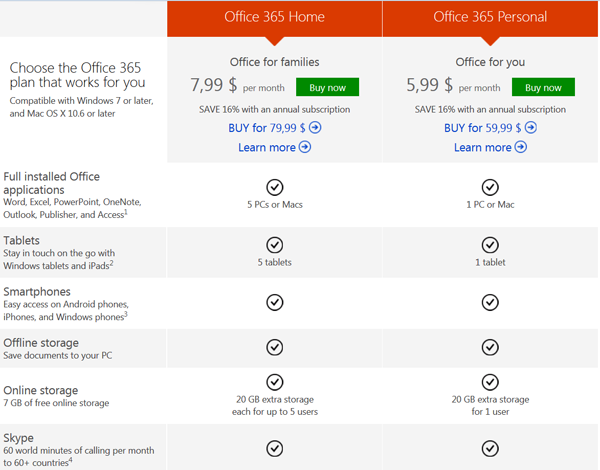 Already bundled with the paid subscription of an Office 365, the Office for iPad allows you to edit or create files using these apps, as well as save them on One Drive (Microsoft's cloud storage), which provides you with 20GB of storage (as mentioned above).
Since the files you made in the iPad Office apps are synced in the cloud (One Drive), the content and formatting of these files are maintained across Office on PC, Mac, tablet and phone.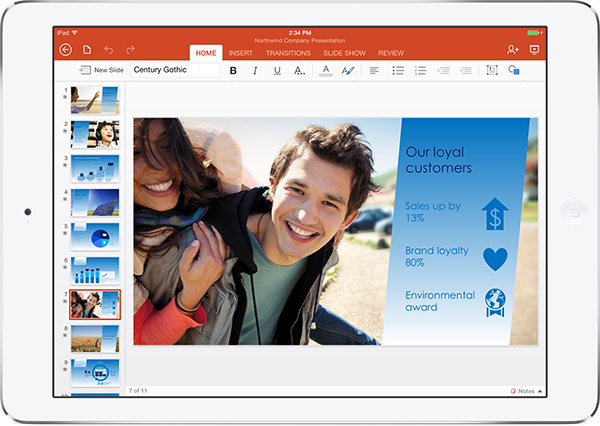 Microsoft Philippines' Tovia Va'aelua said that, except for the free versions of the apps, the Office for the iPad allows the user to enjoy almost all the features of Office in a desktop or Mac that people are very familiar with. There were only very few features that were sacrificed, for example the Macros for the Excel, for the Office iPad.
The iPad apps look and feel very familiar to an Office PC or Mac user. The Ribbon layout and experience is familiar, with the most common commands under Home, and Chart commands automatically show up when you select a chart.
The large touch areas on the Ribbon and in overlay menus make it simple to create, edit and format documents using only touch. Resize and rotate objects like pictures with touch-friendly handles. When you hold and move the objects, text flows smoothly around them. No keyboard and mouse required. You can even use iPad features like voice dictation to draft a Word document or AirPlay® to project a presentation wirelessly on a TV screen.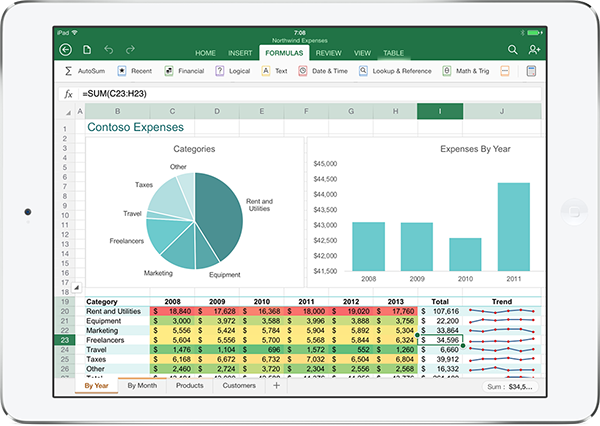 In addition, the apps make it easy to work together. Simply share your content with others thanks to OneDrive and then work simultaneously with multiple people on the same document or presentation.  And, reviewing documents is now great on the iPad.  Word documents can track changes, have threaded comments and easily accept or reject edits all right on the iPad.