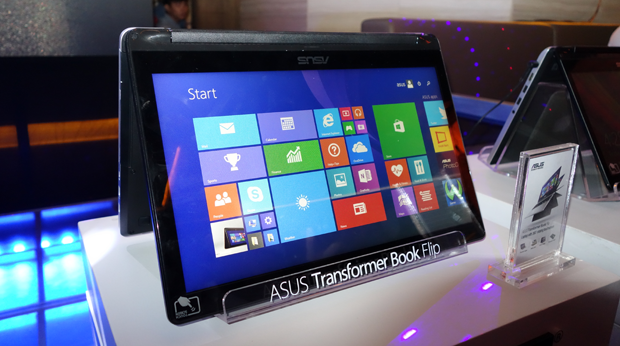 Asus Philippines unveiled yesterday the Transformer Book Flip, its newest "transformed PC," a notebook running on Windows 8.1 that can be flipped over up to 360 degrees turning it into an instant tablet. In tablet mode, the keyboard function automatically shuts off to let the user enjoy the tablet features in full.
Of late PC products such as notebooks and desktops have been undergoing "transformation" to make them more appealing to consumers who are now preferring the touch user interface of tablets and smartphones. The Transformer Book Flip is an example of the transformed PC trend. And it is another innovation coming from Asus, which, in recent years, has introduced a number of multi-function designs for PCs and Android devices.
The Transformer Book Flip comes in different versions. The Transformer Book Flip TP300, with 13.3-inch display, is powered by an Intel Core i3 processor and priced at Php26,995; another TP300 (also 13.3 inch display) is powered by Intel Corei5 and priced at Php39,995; and the TP550, with 15.6-inch display, is powered by Intel Core i7 and NVIDIA graphics (NVIDIA GT820M) priced at Php59,995.
The Transformer Book Flip is installed with Windows 8.1 Pro. It features full HD display with 1920 x 1080 resolution, brushed aluminum finish (like the rest of the Transformer products) and Asus' very own Sonic Master sound technology.
According to Asus Philippines officials, the Transformer Book Flip also features a strong hinge design to ensure durability of the device even if flipped over several hundreds of times. A sensor beneath the hinge makes the keyboard to automatically shut down functionality when the laptop is flipped into a tablet mode.
As to storage, the Transformer Book Flip has both–solid state drive and conventional hard drive. A 500 GB HDD resides in the keyboard part, while the display has SSD (up to 64 GB).
Similar to another flip-able notebook product the Lenovo Yoga, the Transformer Book Flip offers several modes: laptop mode, presentation mode and tent mode.