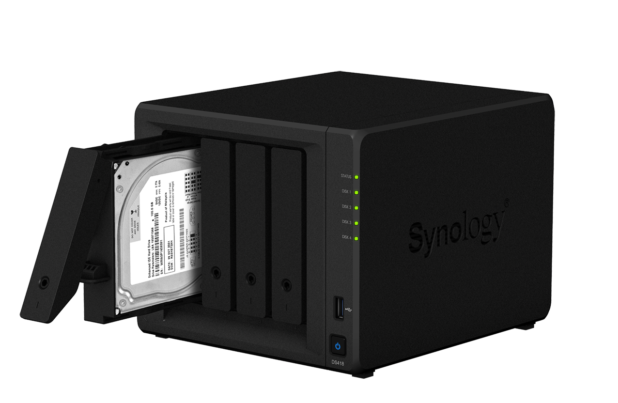 The digital environment has seen the rise in storage solutions for small offices like SMEs and home-based businesses.
Storage and IP solutions maker Synology has unveiled its new XS/Plus/Value-Series solutions that feature 6-bay tower NAS and support for SATA and SSD drives. They offer greater performance and data resiliency for intensive workloads, and even 4K online transcoding capability.
To allow for ultra-high performance using SSD cache without occupying internal drive bays, DS3018xs features a PCIe slot, which can be installed with a dual M.2 SATA SSD adapter card (M2D17).
DS918+ comes with dedicated dual M.2 NVMe slots at the bottom where you can directly install M.2 NVMe SSDs. DS418 features 10-bit H.265 4K video transcoding.
XS-series:
DS3018xs, Synology's first 6-bay tower NAS, is compact but powerful as it features the advanced processor Intel Pentium D1508 dual-core 2.2GHz (Turbo Boost up to 2.6GHz) with AES-NI encryption engine, offering scalability of RAM up to 32 GB and of storage capacity up to 30 drives with two Synology DX1215. In addition to four Gigabit LAN ports, DS3018xs takes advantage of boosting maximum throughput with an optional 10GbE network interface card, delivering stunning performance at over 2,230 MB/s sequential reading and 265,000 sequential read IOPS.

Plus-series:
DS918+ and DS718+ are powered by Intel® Celeron® J3455 quad-core processor. DS218+ is powered by Intel Celeron J3355 dual core processor. All these models are equipped with AES-NI hardware encryption engine. Powered by transcoding engine, these Plus-series NAS servers support up to two channels of H.265/H.264 4K video transcoding. The RAM can be scaled up to 8 GB for DS918+, and up to 6 GB for the other two products, allowing you to operate more intensive tasks at once. DS918+ and DS718+ are equipped with two LAN ports, and their storage capacity can be scaled up to 9 and 7 drives respectively with Synology DX517.
"Responding to the demands from our customers, DS3018xs is built as a comprehensive business-ready desktop NAS. Running mission-critical applications or planning virtualization deployment with DS3018xs has never been easier." said Vic Hsu, CEO of Synology Inc. "The new DS918+, DS718+, and DS218+ are optimized to be your digital video libraries, and will bring you excellent experiences with high definition live video transcoding anywhere you go."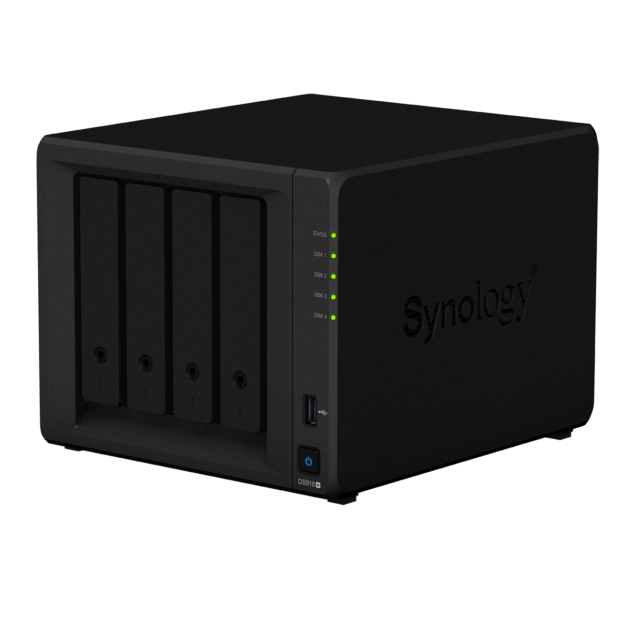 Value-series:
DS418 is equipped with a 1.4GHz quad-core processor with hardware encryption engine, 2 GB RAM, and two LAN ports. Powered by the hardware transcoding engine, DS418 supports H.265 4K transcoding to serve as your media library. DS418 is ideal for offices and home users to manage, protect, and share the critical data efficiently.
DS3018xs, DS918+, DS718+, DS218+, and DS418 run with DiskStation Manager (DSM) 6.1, one of the most advanced and intuitive operating systems for network-attached storage devices which offers a wide range of applications to bring better productivity at work. Synology has received numerous media accolades, such as topping the mid-range NAS category in TechTarget's storage solution survey and PC Mag Readers' Choice for seven years in a row.
Pricing and Availability
DS218+ is priced at Php18,999, DS718+ is priced at Php24,999, DS418 is priced at Php22,999, DS918+ is priced at Php30,999 and DS3018xs is priced at Php76,999. All are available at Synology's local distributor.
For more information on DS3018xs, please visit https://www.synology.com/products/DS3018xs
For more information on DS918+, please visit https://www.synology.com/products/DS918+
For more information on DS718+, please visit https://www.synology.com/products/DS718+
For more information on DS218+, please visit https://www.synology.com/products/DS218+
For more information on DS418, please visit https://www.synology.com/products/DS418
Synology creates network-attached storage, IP surveillance solutions, and network equipment that transform the way users manage data, conduct surveillance, and manage networks in the cloud era. By taking full advantage of the latest technologies, Synology aims to help users centralize data storage and backup, share files on-the-go, implement professional surveillance solutions, and manage networks in reliable and affordable ways. Synology is committed to delivering products with forward-thinking features and the best in class customer services.