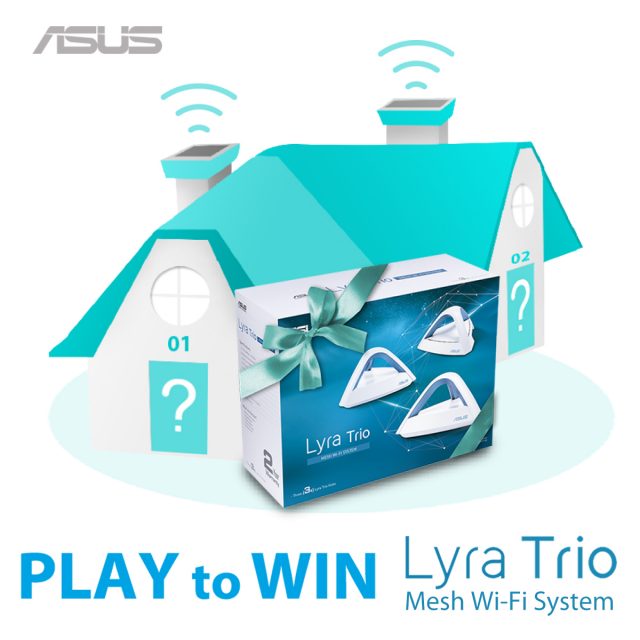 End-users will get a chance to win one (1) Lyra Trio AC1750 Dual Band Mesh Wi-Fi System (3-pack) after completing challenges on the campaign website.
Contest is open worldwide and 10 participants will be chosen randomly to win a Lyra Trio AC1750 Dual Band Mesh Wi-Fi System (3-Pack).
Contest period starts from July 5, 2018 and runs until July 20, 2018.
End-users must go to the campaign website to participate in the challenge.
THE ASUS Lyra Trio mesh system, with its unique pyramid antenna design, provides remedy to poor WiFi signals in the house.
Thick concrete walls in Philippine homes is one cause of the degradation of WiFi signal the farther you are away from your router. This also causes the prevalence of dead spots around the house.
To remedy this, the ASUS Lyra Trio's unique pyramid antenna design allows signals to be bounced off vertically and horizontally which aids in transmitting the signal through walls.
Pairing with other nodes maximizes coverage up to 5400 sq. ft. which eliminates any WiFi dead spots in the area.
Got a multi-tiered house? The Lyra Trio's seamless roaming connects you to the hub with the strongest WiFi signal when moving around the house. The transition from one hub to another is so smooth that your connection will not be interrupted; even when you're video chatting or streaming a video!
Got all worked up on the features of the ASUS Lyra Trio? Here's your chance to get one!
Contest Mechanics
The contest runs from the 5th of July until the 20th of July 2018. Participants need to go to the campaign site (https://www.asus.com/campaign/Lyra-Trio-Challenge/ph/) and play the 2 games on the page. They will then be prompted to log-in to the ASUS website; if the participant does not have an account with ASUS they can register from there. Once logged in, the participants can get an extra entry by clicking the E-tailer site or the Where to Buy page.
10 lucky winners will be chosen and announced on the ASUS Global Facebook Fan Page (https://www.facebook.com/ASUS/) before the 31st of July 2018 and will be contacted by email.
Full contest terms and conditions can be found on the "Terms & Condition" button found on the campaign website.