Canon recently unveiled its newest consumer products, which include the lightest DSLR, Canon's first instant camera printers, and improved refillable ink tank system printers.
Launch of the Canon EOS 200D II, lightest digital SLR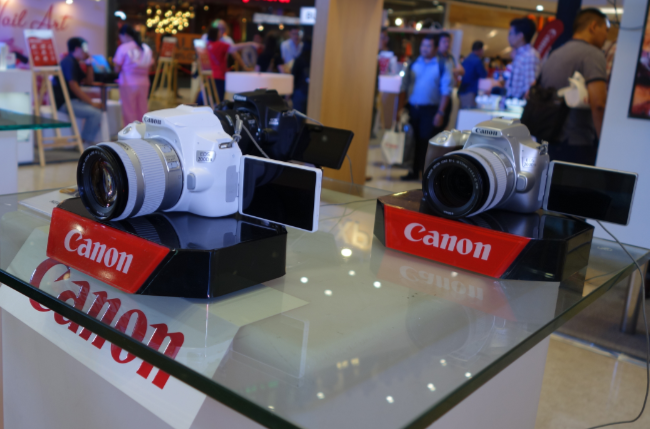 During the opening of the Canon Experience 2019 expo (held at the SM Mega Fashion Hall last June 21 to 23) Canon launched the much-awaited EOS 200D II, considered the world's lightest digital SLR camera equipped with an APS-C size imaging sensor and a Vari-angle touch screen LCD monitor.
Though similar in size to its predecessor, the new EOS 200D II weighs only 449g and comes in black and silver.
The new compact DSLR is powered by Canon's latest DIGIC 8 imaging processor that allows 4K video recording.
It has a 24.1MP APS-C CMOS sensor, a wide ISO range of 100 to 25,600 (expandable to 51,200) and minimum AF luminance of EV-4, made possible with Dual Pixel AF technology.
Its Auto Lighting Optimizer allows for capturing gradations or rich hues. It can also continuously shoot at the rate of up to 5 FPS. Every footage remains sharp even in dim conditions with the Movie Digital IS. And its 4K Time-Lapse function makes recording time-lapse videos uncomplicated.
The EOS 200D II is now available at Canon's authorized dealers nationwide for only PHP 41,998, which comes with a FREE camera bag and additional 2 years warranty when enrolled via the Canon Red app.
New iNSPiC Instant Cameras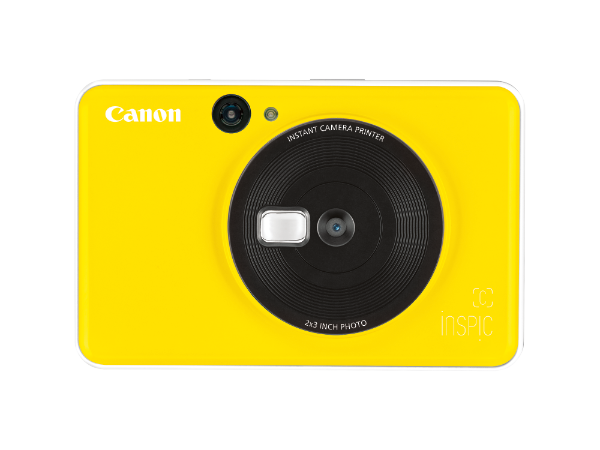 Two variants of Canon's pocket-sized instant camera printers were introduced: the iNSPiC [S] and iNSPiC [C].
The iNSPiC [S] is available in Pearl White, Matte Black, and Rose Gold, with an ultra-slim profile that packs in a powerful 8-megapixel fixed focus camera. Its built-in LED ring light circles the camera lens and activates a powerful fill light for beautiful portrait shots. The iNSPiC [S] comes with a Micro SD slot that supports card capacities of up to 256GB.
The iNSPiC [C] series comes in Bubble Gum Pink, Bumble Bee Yellow and Seaside Blue. Its 5-megapixel camera and a selfie mirror next to the camera lens makes selfie-shooting easy, while a one-touch reprint button ensures no one leaves the party without receiving a photo print of that one precious moment.
Canon's iNSPiC Instant Cameras' mini printers use ZINK Zero Ink Technology from ZINK.
The iNSPiC [S] and iNSPiC [C] are now available for only PHP 9,900 and PHP 7,900, respectively.
New Canon PIXMA Ink Efficient G Series printers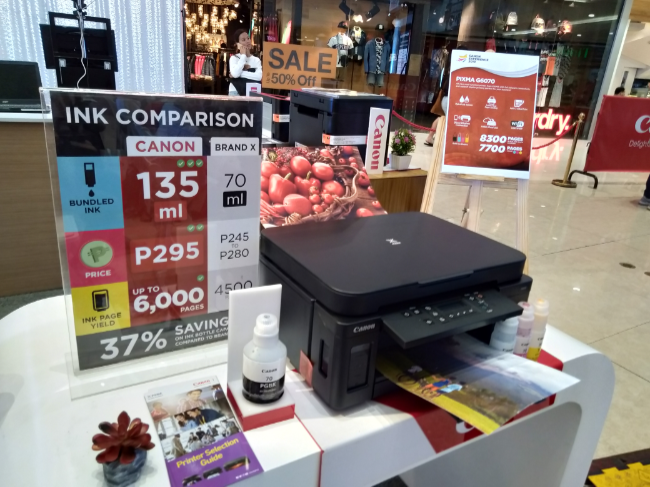 Canon also introduced three new refillable ink tank system printers, expanding its PIXMA Ink Efficient G Series line-up. With the integrated-in-body ink tank design, the printers combine a small footprint with automatic two-sided printing, large paper feeding capacity, and full network compatibility, making them ideal for offices with high print volume demands.
The versatile PIXMA Ink Efficient printers support Wired LAN and Wireless LAN, making them suitable for placement anywhere in the office. The printers also support Wireless Direct, allowing direct communication and printing from smartphones without the need for a wireless router.
The PIXMA G6070 All-in-One multifunction printer handles all printing, scanning, and copying jobs with ease. An Ethernet port and wireless connectivity ensures flexibility in placement anywhere in the office, while a 2-line LCD panel makes it easy to perform and confirm printer settings.
The PIXMA Ink Efficient G5070 is a dedicated print-only workhorse. A 2-Line LCD panel adorns the front panel of the single function printer, similar to that on the G6070, and simplifies setup and provides device status information such as remaining ink levels at a glance.
The PIXMA Monochrome GM2070 printer breaks new ground by having a unique design that accepts a conventional color ink cartridge for occasional and small job prints. When the cartridge is removed, the printer snaps back into character as a no-nonsense, powerful single function monochrome printer that prints up to 8,300 documents off a single ink bottle refill.