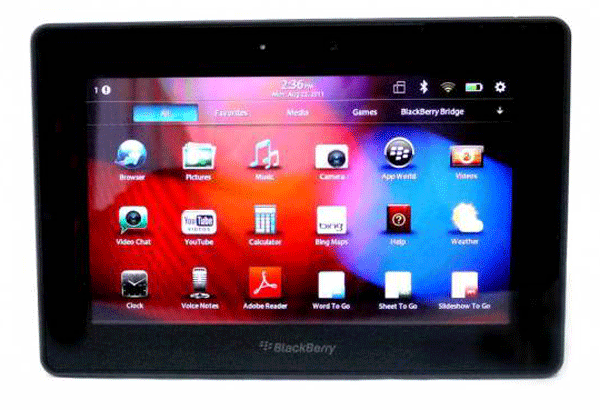 Powered by a dual-core mobile CPU, the Blackberry Playbook supports both Adobe Flash and HTML5 and features full 1080p HD video recording. In addition, Blackberry Playbook features an HDMI video output and compression technology for smooth and faster operations of graphics heavy applications. It also boasts of either 32 GB or 16 GB internal storage and comes either in Wi-Fi only version or Wi-Fi and 3G version.
The one we have on review is a Playbook 32 GB Wi-Fi version.
Unlike its rivals, the Playbook doesn't feature a Back, Home, List hardware buttons as these functions are already done onscreen through a host of gestures, such as pull up or pull down of the screen (like pulling a curtain) combined with tapping the "x" at the bottom of an app screen to exit that application.
Some applications, particularly in the settings, feature "Back" "Cancel" buttons that you can tap to exit or go back to the Home Screen. The Home Screen, which is filled with widgets/apps that are arranged neatly on a grid, can be swiped up and down or towards the left and the right.
Internet via 3G, can be shared to the Playbook by using the Tethering feature, which does browser function through Bluetooth connection. But the user can also use the Blackberry Bridge app, which allows the user to use the web browser of a paired Blackberry smartphone as well as have access to the phone's mail, calendar, contacts, and tasks as well as.
Connecting the two Blackberries can be done through scanning of a barcode by the Blackberry phone on the screen of the Playbook, or you can input manually the required codes onto your phone.
Though it takes time to get used to the gesture commands, the Playbook is a powerful tablet capable of multitasking and fast Internet video playback.
Here's the video demo of Playbook's UI: