LG Philippines recently unveiled and announced the local availability of the LG G Pro 2 phablet and the LG G2 Mini.
The LG G Pro 2 is a phablet that boasts of 5.9-inch Full HD IPS display as well as highly developed camera functions and user experience (UX) features.
The LG G2 Mini is the "mini" version of LG's flagship smartphone the LG G2 that was released last year. It features 4.7 inches but still holds the power and award-winning-capabilities of its mother phone.
The LG G Pro 2 phablet features an SRP of P32,990, while the small but powerful LG G2 Mini smartphone retails for P13,990 only.
The LG G Pro 2 and G2 Mini are the first mobile devices to own Knock CodeTM, a UX feature which enables users to power on and unlock the device in one easy step.  Taking LG's existing "KnockON" feature to the next level, the Knock CodeTM asks users to enter a customized tapping or knocking pattern on the display, which becomes their own personal code.
LG G2 Mini: enjoy the best of LG G2 in a mini
The LG G2 Mini is the first compact smartphone under the premium G Series. Apart from its 4.7-inch qHD IPS display, the G2 Mini retains the innovative Rear Key and minimalist style first introduced in the LG G2.  Its Quad-Core CPU and Android 4.4 KitKat OS are complemented by a strong 2,440mAh removable battery for a prompt and efficient user experience.  The G2 Mini is the ideal device for consumers moving up from a feature phone or upgrading their current smartphones.
"The compact G2 Mini offers design, hardware, and user experience previously unavailable in its class, making it a very attractive option for mid-tier markets," said Lawrence Kim, vice president of LG Electronics Philippines' Mobile Communications division.  "It even adds new and fun features such as flash capability for selfies.  With the G2 Mini, our objective is to allow a much larger consumer base to be able to experience the key benefits of the G2 UX in a smaller form factor."
Size does matter: LG G Pro 2 phablet lets you work, play and be entertained
The LG G Pro 2's full HD IPS display stretches 5.9 inches wide and is encased in narrow 3.3mm side bezels.  The smartphone also runs on industry-leading hardware, comprising a 2.26GHz Quad-Core Qualcomm Snapdragon 800 chipset with 3GB RAM.  Sporting Android 4.4 KitKat and long-lasting 3,200mAh removable battery, users will be able to maximize smartphone usage efficiently and conveniently.
As to its camera feature, the LG G Pro 2 offers a 13-megapixel Full HD camera with OIS+ (Optical Image Stabilizer Plus), an improved technology of the original OIS by 20%.  This comes with a winning combination of 120 frames-per-second HD video recording, slow-motion playback with adjustable speed, 4K Ultra HD recording, Magic Focus, and Natural Flash.  A new camera feature, flash capability for selfies, also comes into play.  The G Pro 2's camera can outshoot and outperform not only most smartphone cameras, but many standalone point-and-shoot cameras as well.
LG G Pro 2 also comes equipped with the new Mini View, for those who choose to minimize their displays, and the Dual Browser, for those who want to have two apps visible on the screen at the same time.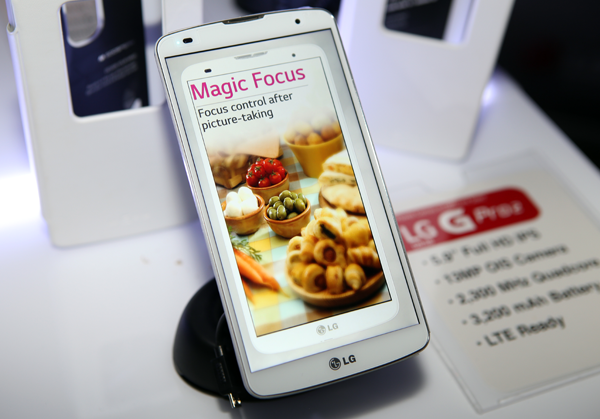 For more information, visit www.lg.com/ph, like LG Mobile Philippines on Facebook, or follow @LGPhilippines on Twitter and Instagram.