Windows-run notebooks that convert into a tablet device have been around for quite some time. The coming of ultrathin tablets with intuitive user interface that respond to multi-touch input has somehow eclipsed the existence of notebook tablets.
But tablet PCs are still around. And since they're full-featured notebooks, they serve better the needs of enterprise customers looking for powerful notebooks to equip their employees.
The new Lenovo ThinkPad X220 tablet is one such tablet PC. Powered by Intel's second generation Core i5 (Intel Core i5-2520M with Turbo Boost), 2 GB DDR3 memory, and equipped with energy-saving features, the ThinkPad X220 is a notebook tablet for enterprise-grade use.
Another signal that the ThinkPad X220 tablet is for enterprise use is the integration of Intel's vPro technology. This technology allows for remote management of the device enabling IT people to service the laptops through secured network even if the laptop is miles away from headquarters.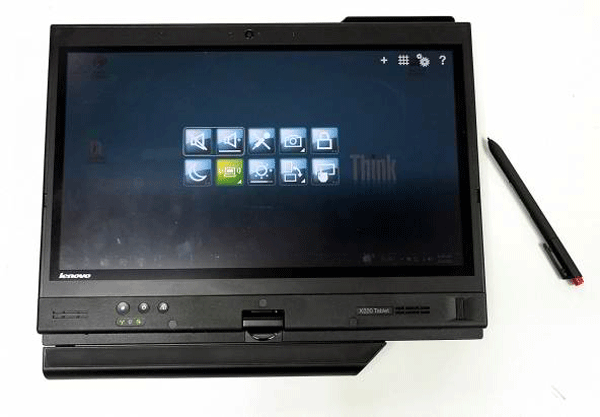 The ThinkPad X220 tablet looks a whole bit a notebook, but its multi-touch screen can rotate 180 degrees, allowing it to be flipped over to completely cover the entire keyboard—literally transforming the notebook into a fully functioning tablet.
In addition to this "converting" feature of the display, there's also the presence of a "Digitizer Pen" (stylus pen) to allow inputs other than touch.
There's also the obvious protruding parts attached to the base of the device and on the right side of the screen that functions as a handle and control of display when the notebook is in tablet form.
As the device runs on Windows, a platform very much criticized for its non-friendliness to touch technology, the ThinkPad X220 tablet has incorporated an add-on feature to make it appeal to touch UI fans.
For example, access to the notebook's basic settings and some personalized features can be done through Simple Tap, an intuitive tile-based interface that gives the user a quick control of the notebook tablet as well as easy access to favorite websites, productivity tools and content.
To activate Simple Tap, the user can touch the red launch point on the screen, tap the screen twice with two fingers, or tap the muti-touch pad twice with two fingers.
The ThinkPad X220 tablet doesn't feature an accelerometer, but it has a hardware button located below the screen to automatically rotate the screen when orientation changes to vertical or horizontal.