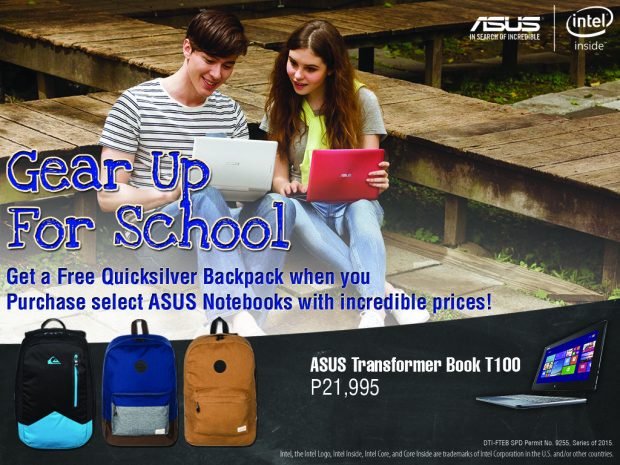 For its back-to-school campaign, ASUS will be offering discounted prices for its notebooks. Purchase of ASUS notebooks also comes bundled with trendy Quiksilver backpacks worth PHP1,990 – PHP2,990. The promo is until June 30 only.
From touch notebooks to 2-in-1 hybrid devices, to gaming and multimedia laptops, ASUS gives you the right device that's perfect for your every need.
ASUS Notebooks give you the needed performance in order for you to finish all your schoolwork. Windows 8.1 and ASUS exclusive touchpad gestures make them convenient to use when   multi-tasking.
Model
Old Price
New Price
Bundle gift
·        ASUS X102
Php16,995
Php13,995
Free Quiksilver tracker bag
worth P1,990
·        ASUS Transformer Book T100
Php23,995
Php21,995
Free Quiksilver tracker bag
worth P1,990
·        ASUS Transformer Book T200
Php24,995
Php22,995
Free Quiksilver tracker bag
worth P1,990
·        ASUS Transformer Book Flip Core i3
Php26,995
Php26,995
Free quicksilver New Wave bag
worth PHP2,990
·        ASUS Transformer Book Flip Core i5
Php35,995
Php35,995
Free quicksilver New Wave bag
worth PHP2,990
·        ASUS Transformer Book T300Chi Core M 5Y10
Php39,995
Php39,995
Free Quiksilver tracker bag
worth P2,990
·        ASUS Transformer Book T300Chi Core M 5Y71
Php46,995
Php46,995
Free Quiksilver tracker bag
worth P2,990
·        ASUS X200MA
Php21,995
Php15,995
Free Quiksilver tracker bag
worth P1,990
·        ASUS X555LD
Php33,995
Php32,995
Free Quiksilver tracker bag
worth P2,990
·        ASUS X455LD
Php32,995
Php16,995
Free Quiksilver tracker bag
worth P2,990
·        ASUS X454LD
Php27,995
Php26,995
Free Quiksilver tracker bag
worth P1,990
·        X453MA
Php16,889
Php16,889
·        ASUS ROG G750JS
Php99,995
Php89,995
Free Quiksilver tracker bag worth P2,990
and exclusive ROG Jacket
·        ASUS N551JK
Php63,995
Php54,995
Free Quiksilver tracker bag
worth P2,990
Enduser may claim their freebies in two ways:
First Option: At the following Concept Stores
SM Megamall (ASUS Shop-in-Shop), 4th floor Cyberzone
SM North Edsa, 4th floor, SM Cyberzone
SM Fairview, 3rd floor, SM Cyberzone
Festival Supermall, 3rd floor Festival Supermall
SM Lanang, 3rd floor, SM Cyberzone
SM Bacolod, 2nd floor, SM Cyberzone
Second Option: Ship to Customer's Address
Enduser must email a copy of their official receipt, serial number box cut-out and provide their name, e-mail, contact number and complete shipping address to: asusredemption@gmail.com