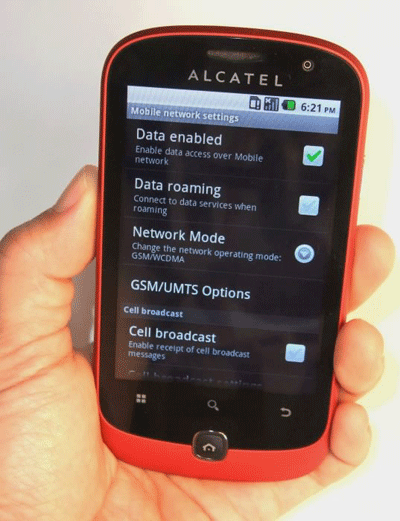 Thanks to big global device brands such as Samsung, iPhone, Blackberry, Nokia, and HTC, which keep coming out with smartphones with sleek design and user interfaces as they encourage other startup phone makers targeting the mass consumers to also come out with better handsets.
Google's most successful, free, and widely used platform Android can also be credited for the smartphone explosion that also had these phone makers get some piece of the action in the smart device-driven market.
One new handset brand is Alcatel, which recently came out with a full-range of Android-run mobile phones, which include the Alcatel Blaze 990.
This 3.5 screen touch phone has sleek shape, chrome finish, and a solid grip. It doesn't feel light like it is made of plastic similar to other handsets under the affordable range. It also comes in three attractive colors: bluish black, spicy red and aubergine. It sure does look like premium phone for a tag price of only P8,999.
It runs on stock version of Android 2.2 Froyo and upgradable to Android 2.3 Gingerbread. One noticeable attribute of affordable Android handsets is the incorporation only of stock version Android, so don't expect much enhancements into the user-interface other than offered by the Android. Alcatel Blaze 990 is no exception.
As it is an Android handset, it features five customizable "main menu" window screens, you can organize your apps and widgets to your liking and of course GPS and access to the Android Marketplace. It is also Wi-Fi ready and you can easily make it into a hotspot to share the 3G data connectivity (7.2 Mbps speed) to up to five Wi-Fi device via the tethering feature. That's the beauty of an Android system.
Alcatel Blaze 990 also features a 5 megapixel autofocus camera, allowing you to share high quality photos taken with it to be shared immediately to Facebook and twitter. It also has a secondary front-facing camera for video calls like Skype or Fring.
One drawback of this phone is its screen that sometimes requires you to press harder to launch the widgets or apps. The display brightness is rather acceptable. It's not as bright as those found in high-end smartphones, but it will do.
Alcatel used to be a major player in telephony products, having produced phones and telephony solutions for enterprise and home use. It is a France-based company but became a partner of China's TCL in 2004. TCL Communications is one of the largest consumer electronics company in China, which boasts of six R&D centers worldwide with over 2,500 engineers at present working on the latest mobile innovations.
Now focusing on mobile handsets, Alcatel rebranded itself to Alcatel OneTouch to strengthen its product line under the OneTouch series.
In 2010, Alcatel OneTouch re-entered the Philippines with 3 models: OT-305 (an entry level music phone), OT-806D (touch qwerty phone), and OT-980 (first Android 2.1 Smartphone) and has now expanded its phone range to 15 units after 12 months.
(Article appeared in The Fortnightly, a free newspaper circulating in the key business districts in Metro Manila, December 1 issue)