Nokia Lumia 710, along with the rest of the Nokia Lumia phones being introduced, is considered the come-back kid of the Finish mobile handset maker, which banks on Windows OS to regain its place in the smartphone turf currently dominated by Android and iOS devices.
Among the Lumias, the Nokia Lumia 710 is positioned as a mid-range smartphone. It features 3.7 inch multi-touch screen and runs on Windows Phone 7.5 or the Mango iteration and boasts of 1.4 GHz processor. It's got a 5MP camera with flash. It has 3G connectivity, WiFi, and mobile apps from Microsoft's online store the Windows Marketplace. It comes in pretty colors. The design is superb. It's very light and offers a comfortable grip. Except that the case is made entirely of plastic, but feels sturdy enough.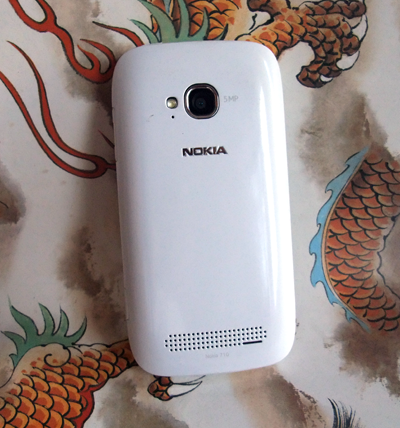 With the Lumia 710 and other Lumias, Nokia is encouraging its big user base (there are still a lot of Nokia fans and users out there as Nokia still rules the market when it comes to feature phones) to make the switch to a smartphone and not just any smartphone but a Nokia.
Though a mid-range handset, Nokia Lumia's user experience is superb. The Metro UI–as opposed to Android's or iPhone's widgets UI–is so easy to manage and use that even folks with hardly any knowledge of PCs or smartphone operation would be able to learn how to toggle between applications.
Messages, emails, calendar, pictures, music and videos, contacts and social networks are grouped and organized in boxes or "hubs" on the homescreen, making it easy for the user to be notified of emails, calls, SMS, calendar reminders, etc. A touch of the hub or function takes you to the application's page.
Notable features of the phone include the People box, which offers an integrated view of all your contacts from Facebook, Twitter, Windows Live, Exchange, Gmail and Yahoo as well as updates from your social network friends. It just doesn't function as a place to look for a friend's number, but also a place you go to find what your friends are doing or saying in Twitter or Facebook or read the messages they've sent you or see the photos they've uploaded.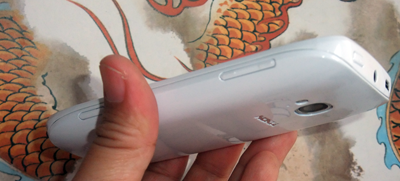 The Profile box takes you to your own profile page, where you can post a message, check in, or set chat status. You can also review the notifications and postings you've made on your social networks.
At the Pictures hub or tile, you can manage pictures shared on Facebook or SkyDrive, but you can also see pictures your friends have taken, and you can see who's tagged you and you can also tag others.
Since the Lumia 710 is a Nokia phone, you can have access to Nokia's maps and navigation app (Nokia Drive Hub), which is useful when driving or looking for locations. The good thing about this is unlike Google Maps that require 3G data to refresh the maps constantly, Nokia's maps are already preloaded onto the phone, which makes for faster rendering of maps and location.
Multimedia handling is also notable—the YouTube clips play straight without stopping to buffer. (I think in Android phones this problem is fixed with the ICS iteration.)
As it is a Microsoft Windows phone, the Lumia 710 comes preloaded with a complete Microsoft Office as well as SkyDrive, which provide users with free 5 GB online storage in addition to the 8GB internal storage of the phone.
With the Lumia 710, Nokia has truly provided consumers with a very friendly, snappy, responsive, and easy-to use smartphone. But there are drawbacks still—you can't save draft message and numbers written on notepad aren't highlighted to signify a call function.
The Nokia Lumia 710 is the first and most affordable Nokia-Windows phone offered under Smart's Special Edition Plan 1000. Purchasers of the plan need only to pay additional cash out of P450 a month for 24 months as amortization payment for the handset.
Postnote:
How to retrieve a draft message
Sad to say the Nokia Lumia 710 doesn't save a draft message–it would have been the perfect smartphone had not been to this major oversight. A lot of inquiries and searches that land on this very page are all inquiring about how to make the Nokia Lumia 710 save a draft message, which is why I put this little explanation or how to go about it.
The Nokia Lumia 710 is a multitasker, which means that apps that are opened are still open, unless you close them. So if you were able to write a message and accidentally went to another application and when you get back to the message hub or app you couldn't find any written unsent message, there's still a way to retrieve that message. Just press the key the provides all the windows of all the opened apps, scroll through them, and voila–I'm pretty sure one page has that message. You just get back to it. I hope this helps.
See video below for the actual demo of the Lumia 710: