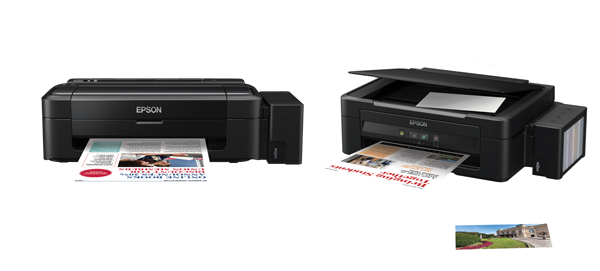 Introduced last year, Epson's ink tank system printers known as the Epson L-series genuine ink tank system have new models Epson L110 and Epson L210, which are the basic models, and the Epson L300, Epson L350, and Epson L355, which are the advanced models.
The Epson L-series printers feature Epson Original Ink Tanks or neatly integrated ink tubes and a special choke valve, which allow for easy ink refilling as well as convenient transportation of the printer.
The new printer design is intended to capture a market segment, particularly small businesses or home based businesses looking for high volume printing capacity in a smaller printer.
Unbranded third party systems we often see in print houses near schools have been employing an ink tank system, which makes printers (whatever brand) into high-volume printers. And they appeal to users who want more print volume, which small printers couldn't provide due to the limitation of cartridges.
Unlike third-party systems, the Epson L-series ink tank system printers are covered by Epson's warranty for a year or for 15,000 pages (L110 and L210) or 30,000 pages (L300, L350, and L355), whichever comes earlier.
The ink bottles that come with the Epson L-series cost only P295, but can already produce high volume of print out at low cost per page. For example the black 70 ml ink bottle (original ink) can already print 4,000 pages, while the 70 ml color ink bottles (Cyan, Magenta, and Yellow) can print 6,500 color pages.
The new L-Series models also feature Epson's pioneering Micro Piezo print head technology.
The high reliability of Epson's Micro Piezo print heads allows them to be built into the printer and users to print high volumes with them. The Epson Micro Piezo print head found in the Epson L-series models achieves a maximum print resolution of 5760 x 1440 dpi and its variable size droplet technology (VSDT) allows the print head to eject ink droplets in multiple sizes.
New Epson L-series models now come with FASTER print speed:
Epson L110 and L210 are the "basic" next generation ink tank system printers designed for home and SOHO (small office / home office) users. As such they carry affordable pricing.
The Epson L110 is a single function printer while the Epson L210 is an all-in-one ink tank system printer. Both printers are capable of producing 6 images per minute (ipm) with a print speed that is twice as fast as the L100 and L200 models they replace. The Epson L110 and Epson L210 also have a high rated durability of 15,000 pages.
The new Epson L300, L350, and L355 are the "advanced" next generation ink tank system printer catering for small to medium business users.
The Epson L300 is single function while the Epson L350 and Epson L355 are all-in-one ink tank system printers. These models offer a productivity-boosting print speed of 9ipm (three times faster than models they replace) and assure users of reliable performance with their high 30,000 page rated durability.
The Epson L300 and Epson L350 also come with two additional black ink bottles in the initial package. The Epson L355 has the same specifications as the Epson L350, but with the added feature of Wi-Fi connectivity.
The L300, L350, and L355 (Wi-Fi) come with two additional black ink bottles in the initial bundle. With these inks, the Epson L-series ink tank system printers offer the world's lowest running cost per page of any branded printer in the market.
The new Epson L-series will be available to Filipino customers starting this month.