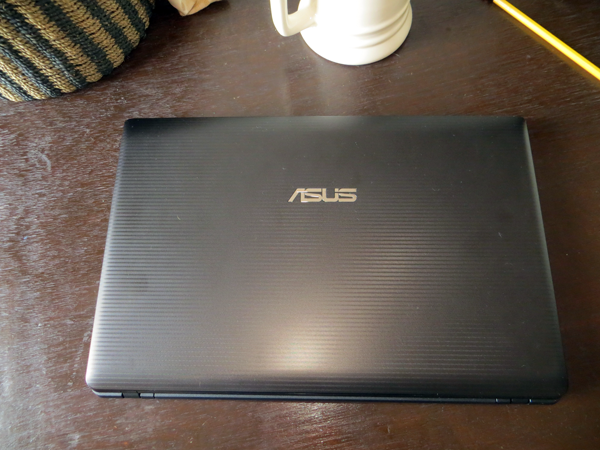 Laptops that boast of high processing power and graphics need not cost too much. Perhaps this is the reason why Asus came out with the Asus K55V Series, a 15-inch laptop priced at only P42,995 but is already powered by an Intel Core i7 processor (clocked at 2.3 GHz) and an NVIDIA GeForce 2 GB video card, in addition to having a whopping 750 GB of storage.
It used to be that laptops having an Intel Core i7 processor were priced way up above the P60000 range (I've seen gaming laptops priced above the P100,000 range), with PC makers leveraging on a faster and powerful processor as one key indicator of a pricier laptop.
But the proliferation of and popularity mobile devices such as the tablet smartphones have encouraged PC makers to "rethink" the positioning, pricing and marketing of their products to be able to compete.
I highly appreciate and welcome the arrival of the Asus K55V Series, which is the most affordable Core i7 laptop out there already installed with a Windows OS. Without the OS, its price goes down further to only P39,995.
Now, some people have this idea that if a product which supposedly boasts of a high processor and graphics power comes at a cheap price, some features may have been sacrificed or lacking.

The Asus K55V Series begs to disagree. Design and make wise, it's a superb looking laptop. It has a unique dark brown bamboo-patterned top, which lends a classy high-end appeal on the product. The bottom likewise presents tiny patterns and the usual divisions/openings to access the internal parts (for upgrade/repair). The keyboard area also features the dark chocolate brown theme highlighted by a floating keys, an Altec Lansing bar speakers, and a large "multi touch" touchpad on aluminium surface. Overall, it has nice appeal and feels sturdy and solid.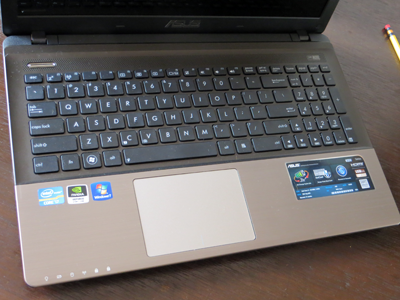 There's an optical DVD drive and ports include two USB 3.0, one USB 2.0, HDMI, VGA, and LAN.
I've been using the laptop for a month now and I'm impressed with its performance.
I've always associated laptops as great productivity tools, which means it helps me in my work. I do a lot of photo editing/enhancing and resizing. With the Asus K55V, I can open several images (taken with a DSLR) straight from the SD card and edit them fast with Photoshop and save them fast in many formats as well.
Images from the SD card populate the screen really fast, without the lag and I can choose immediately from the hundreds of images as they pan faster.
With my old laptop, which doesn't feature a dedicated graphics and was running on a Core i5, I would first copy the file I needed from the SD card and then when it's loaded onto the hard drive, I start the editing process to ensure I won't wait for the heavy image to load on to the screen.
The nice thing about laptops having dedicated graphics card is the presentation of details of the images. Even when you deal with a lot of images with several screens open, you are able to zoom in on the details and manage to keep the finer details intact during the cleaning and routing process.
The same is true for video handling/editing, which is also a lot faster with details more pronounced.
Backing up of files is also a darn a lot faster with the Asus K55V.
Another cool thing about the Asus K55V is how it dissipates heat (which is a problem for laptops intended for productivity use since the device is working for long hours). Heat is dissipated through the vent on the left side of the laptop that features an exceptionally bigger-sized grills. Asus calls its cooling technology "Ice Cool" which sort of sucks the hot air out to prevent them from getting into the crucial parts inside, particular those that reside under the palm rests areas. So the user is provided with cooler palm rests all the time.

What's not nice about the laptop? In my opinion, I find the widely spaced keyboard a bit uncomfortable. To compensate for the widescreen layout of the 15-inch screen, a wide-spaced keyboard was likewise installed (but at least you get a complete number keypad, which is a plus). The screen is a glare type, which means you can see your reflection when you work in a brighter environment. It takes learning to master the multi touch/gesture touchpad (or I'm just used to using a mouse).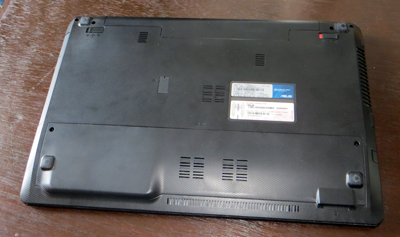 If you are a multimedia/photography student or someone starting to engage in video production but funds are scarce for high-end top-of-the line layout machine, then get the Asus K55V, which can wonderfully do the job. You can always attach a large screen onto it to satisfy your screen requirements and at the same time it provides you with mobility to present you work easily.