Creative has introduced the series of Creative Airwave portable speakers that are NFC-enabled to allow for instant music streaming from an NFC-enabled smartphone just by tapping the device on the speaker.
In a demonstration, Creative product manager Christian Calimosa showcased the power of Creative Airwave speaker by tapping an NFC handset (a Samsung Galaxy S4) to the triangular shaped speaker and immediately the music being played on the smartphone is heard coming from the Creative Airwave speaker.
The Creative Airwave is a total wireless speaker solution as it also has Bluetooth function to stream music from Bluetooth enabled devices.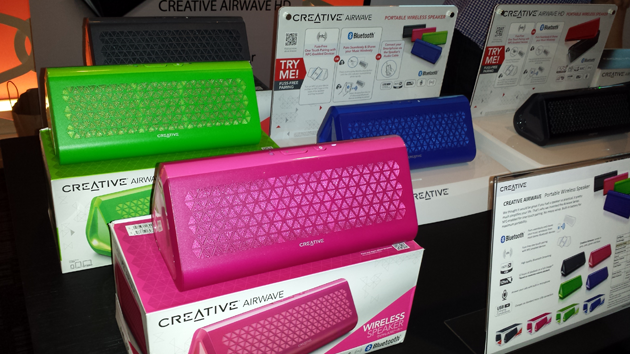 The Creative Airwave series of speaker comes in two versions: Creative Airwave and Creative Airwave HD portable. The difference mainly is in colors as Creative Airwave comes in candy colors of grey, pink, green and blue, while Creative Airwave HD comes in black and red. In addition, Creative Airwave HD can connect two Bluetooth devices and simultaneously toggles between them.
Creative, which was initially known as producer of entry-level speaker for PC desktops, has grown significantly through innovation. The brand now caters to the mid-range market and has produced a number of headsets and headphone products aside from speaker systems. The company also has invested a lot in research to further improve its offerings in the market.
Creative's growth in the speaker and headset industry can be attributed to the increasing number of mobile devices such as tablets and smartphones, which have also encouraged a lot of consumers to enjoy music from their devices. As consumers' appreciation in music from mobile devices elevates, the enjoyment of music through peripherals that attach to tablets and smartphones also increases.
Features of the Creative Airwave Wireless Speaker in summary:
• The Airwave series are NFC-enabled for one touch pairing. It has no messy wires. And has built-in batery for maximum portability.
• Apart from NFC, it also pairs via Bluetooth, for sharing of music wirelesslly from most Bluetooth devices.
• High quality bluetooth streaming
• 7 hours of playback on a full charge
• can answer calls with built-in microphone