The anticipated flagship Windows 8 device from Nokia, the Nokia Lumia 1020, which boasts of a 41-megapixel camera and hosts of other features, was launched in the Philippines last night at the Ayala Museum.
The Nokia Lumia 1020 has a suggested retail price of P35,650 and comes with a free camera grip fitted with a 1020 mAH battery (which is actually worth P4,000). Local telcos would soon offer the device at attractive data plans.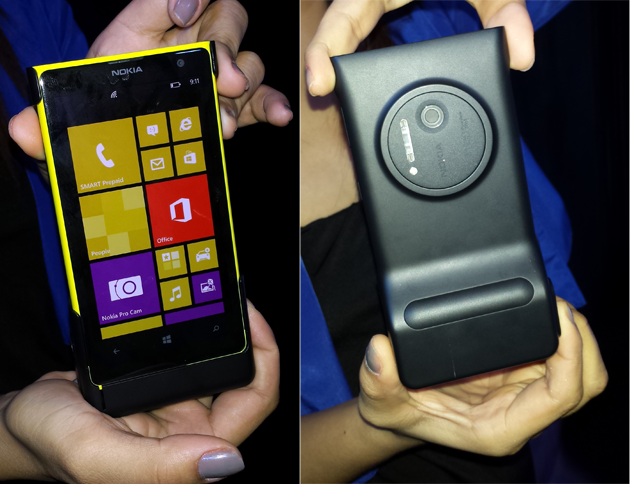 With its 41 megapixel camera, the Nokia Lumia 1020 outdoes the other top-tier high-end smartphones in the market today in megapixel count. For example, the Samsung Galaxy S4 Zoom features a 16 megapixel camera, while the LG G2 has a 13 megapixel camera, and Sony Xperia ZR has a 13.1 megapixel camera.
It literally gives a new meaning to the "camera smartphone" and could actually seal the exit of point and shoot cameras, which of late are experiencing dampening sales as consumers are now using their smartphones to shoot photographs.
Nokia Lumia 1020 is the smartphone that sets a new benchmark in smartphone imaging.
Below are the reasons:
• With its obvious camera, the back of the Nokia Lumia 1020 can actually become the "front" of the smartphone, according to Gary Chan, Head of Marketing, Pan Asia, Nokia.
• It features a unique dual capture, simultaneously taking a high resolution 38 megapixel image for editing opportunities, and creates a 5 megapixel picture that is easy to share on social networks.
• The Nokia Lumia 1020 is able to produce some of the sharpest images possible by any digital camera thanks to Nokia's innovative PureView technology, including a second generation 41 megapixel sensor, six lens Carl Zeiss optics with optical image stabilization – allowing people to capture, edit and share professional quality photos and videos.
• It's interesting to note that "ball bearings" inside the phone contribute to the image stabilization while shooting at low light condition.
• The Nokia Lumia 1020 has both Xenon and Led flash. It also features a mechanical shutter.
• Using a new application called Nokia Pro Camera, the Nokia Lumia 1020 reinvents zoom, enabling people to shoot first and then zoom later to discover and re-discover details contained in the photo.
• The control dial, which is usually found in DSLR camera to control camera settings such as aperture, shutter speed, exposure, focus can be accessed on Nokia 1020 screen. A "dial" literally appears from where you can swipe the control button to increase or decrease the numbers for the settings and while doing so the image onscreen adapts to the changes.
• There's even a camera tutorial, teaching the user how to take better photographs.
• Nokia Lumia 1020 features two mics, which provides amplified stereo sound, which is very useful when recording video using the smartphone.
• The FREE Camera Grip includes a built-in, rechargeable 1020 mAh battery to capture up to 285 more photos. The versatile Nokia Camera Grip can attach to any standard camera tripod for those moments when you to take self-portraits or for setting-up the perfect long-exposure shot.
"Consumers want to capture and share memorable experiences with their smartphone. We want to take people on a journey from capturing pictures to recording and sharing their lives. The Nokia Lumia 1020 brings new meaning to pictures and continues to strengthen Nokia's leadership in imaging. The Nokia Lumia 1020 is the first smartphone to exceed many standalone digital cameras in terms of image quality capture ensuring users always have that perfect photo – day or night," said Chan.


Product information
Nokia Lumia 1020
Operating system
Windows Phone 8
HERE location and mapping services
Free global HERE Maps and HERE Drive+; Free HERE Transit available in the Store
Display
4.5″ AMOLED WXGA (1280×768), 2.5D sculpted Corning Gorilla Glass 3, PureMotion HD+, ClearBlack, high brightness mode, sunlight readability, super sensitive touch, Nokia Glance Screen
Battery
2,000 mAh battery, wireless charging supported via cover
Processor
1.5 GHz dual-core Qualcomm Snapdragon S4
Main camera
PureView 41 MP with optical image stabilization, Resolution: 7712 x 5360. 6-lens Carl Zeiss optics, high resolution zoom 3x. Xenon flash for still images, LED flash for video. 1080p 30fps video recording. Includes Nokia Pro Camera and Nokia Smart Camera.
Front facing camera
HD 1.2 MP wide angle
Memory
2 GB RAM, 32 GB internal memory; 7 GB free SkyDrive cloud storage