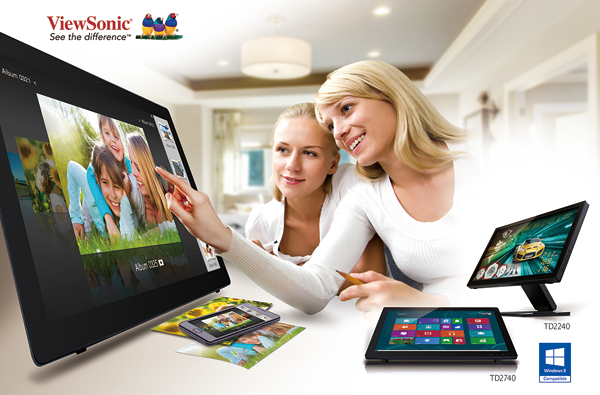 Touch technology is also getting into PC displays or monitors. The latest to adopt touchscreen feature is Viewsonic with its new 21.5-inch TD2240 and 27-inch TD2740 10-point projected capacitive touch screen displays.
The new touchscreen displays will pave the way for a full line of touch displays from this PC monitor company. The move is a response to the growing demand for "touch" devices and these includes PC displays as well.
The 21.5-inch ViewSonic TD2240 and the 27-inch TD2740 Full HD displays come equipped with 10-point projected capacitive touch screens.
The TD2740 is equipped with a 1.0MP front webcam and a microphone delivers a versatile solution for use in the office or at home, as well as for use as an information kiosk in public areas, or as a teaching tool in interactive learning environments.
Besides, integrated with Mobile High-Definition Link (MHL), the TD2240 enables users to display mobile devices directly to a larger screen without the need for a PC.
The touchscreen display has been going strong and becomes the most promising segment in global electronics industry, according to NPD DisplaySearch.
Based on its recent analysis, the shipment and revenue of touch screen module market was predicted to grow at an annual average rate of 15.4% and 16.3% from 2011 to 2018.
The total touch screen module revenue will reach $21.4 and reach $31.9 billion by 2018.
And after the release of Windows 8.1 in October and the gradually popularity of the interface, it opens a door for touch screen manufacturers to go from small/medium to bigger screen size to implement in commercial market.
"With touch technology, interactive display monitors can now be used as a great tool for information kiosks, airport counters, hotel receptions, points of sale and interactive education. The whole new TD40 series offer excellent interactivity, along with superior front-of-screen performance. The TD40 series offer a highly accurate and ultra-responsive touch experience—whether for web-browsing, gaming, typing, or applications execution," said Max Liu, product marketing director of ViewSonic Asia Pacific in a press statement.
"With the addition of our TD40 series, ViewSonic has a strong product portfolio in a range of sizes in 22″, 23", 24" and 27″ to meet most every consumer, commercial and educational demand."
The bookstand design of ViewSonic TD2240 and TD2740 provides advanced ergonomics and allows the display to be tilted, or laid flat on a table top, for more comfortable use.
Key features of the Viewsonic TD2240 and TD2740:


• Projected Capacitive 10-Point Touch. With its 10-point multi-touch technology and a durable, scratch resistant surface, the TD40 series offer a highly accurate and ultra-responsive touch experience—whether for web-browsing, gaming, typing, or applications execution.
• The ergonomic bookstand design allows the screen to be tilted and adjusted from 15 to 70 degrees, or rest flat on a desk or table. This makes it well suited to a variety of user scenarios in the home, school or office.
• 1.0MP Camera with Microphone for Easy Video Conferencing (TD2740)
• The TD2740 includes a pair of integrated 2W speakers, a 1.0MP front webcam supports HD video quality, and a microphone for video conferencing with internet access.
• TD40 series feature a 1920 x 1080 Full HD 1080p resolution for incredible pixel-by-pixel image performance.
• SuperClear technology provides viewers with a 178°/178° wide-viewing angle and consistent color performance. The technology eliminates image distortion and color shifting, even at extreme angles.
• Durable 7H Protective Glass Withstands Impacts and Scratching. The touch display is constructed with a 7H hardness protective glass which provides increased scratch-protection. It prevents any heavy damage caused by fingers, nails, or styluses during touch operations, making it ideal for use in kiosks, educational settings, or other public environments.
• MHL Interface for Big Screen Experience (TD2240). Integrated with Mobile High-Definition Link (MHL), the TD2240 enables users to connect compatible mobile devices, such as smartphones and tablets, directly to the TD2240 display. This allows digital content from mobile devices to be viewed in stunning Full HD resolution on the 22-inch screen of the TD2240. For additional convenience, the batteries of mobile devices are charged while connected via MHL.
• High-Performance HDMI & DisplayPort Connectivity. ViewSonic's TD40 series is equipped with a HDMI port and DisplayPort digital interface to support signals from set-top boxes, Blu-ray players, and Full HD camcorders and deliver Full HD images.
• 4-port USB 3.0 Hub for More Flexible Connectivity (TD2240)