LG's flagship device the G3 has been officially launched in the Philippines.
The LG G3 is now available in all LG dealers nationwide for an SRP of Php29,990 for the 16 GB variant and Php33,990 for the 32GB variant.
Still adopting the form and design elements (including the rear button) of its predecessor the LG G2, the slightly bigger screen LG G3 sports a metallic back finish and comes in trendy colors like metallic black, silk white, shine gold, and burgundy red.
The LG G3 features a quad HD display, with pixel density of 538ppi–this type of display produces images that are even sharper and more vivid than full HD displays. (Another smartphone that also features a quad HD display is a Chinese brand Oppo 7.)
At 5.5 inches, LG G3's display hugs more real estate compared with other high-end smartphones out there. The display's screen ratio is 76.4 percent.
Other key features of G3 include a quad core Snapdragon processor  (2.5 GHz), a 13-megapixel rear camera with OIS and dual LED flash, and big capacity battery.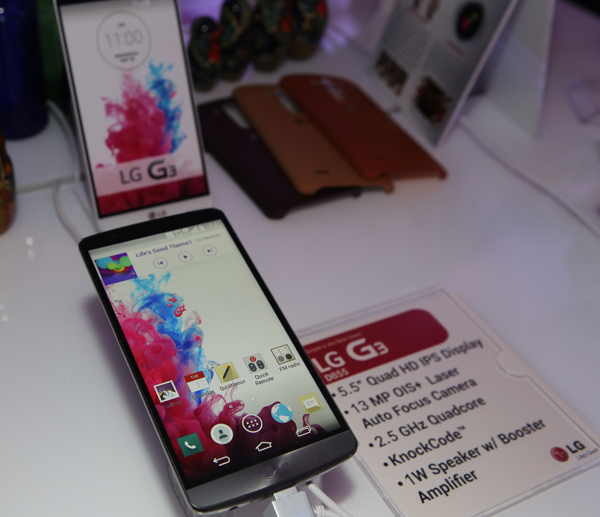 In addition to the advanced core technologies, LG offers simpler yet smarter user experience (UX) features not found in previous LG smartphones including:
• Smart Keyboard: Makes typing messages all the more intuitive with smart offerings of Keyboard Customization for the user's convenience, Word Preview for seamless word completion, and Word Edit for quick and easy correction.
• Smart Notice: Provides suggestions and recommendations based on user behavior, phone usage patterns, and location to offer user information when it's needed the most.
• Smart Security: Offers a number of enhanced security features such as the trademark Knock Code which enables users to wake and unlock their device just by "knocking" a customized code; the Content Lock which keeps personal files safe and hidden from view when sharing the G3 with others; and the Kill Switch which gives the owners the ability to disable their phones remotely in case of theft.
Here are links to in-depth G3 review made by Hardware Zone Singapore and GSMArena.com:
http://www.hardwarezone.com.sg/review-lg-g3-good-things-come-those-who-wait