Tech21 has already introduced iPhone cases and cases for other leading smartphone brands with Impactology. Recently, the company introduced new protective cases for iPad Mini Retina, iPad Mini Retina and for Macbook Pro and Macbook Air.

Tech21 is a UK-based peripherals maker, which invented this thing called "Impactology" technology for its protective cases. It's a combination of design, innovative materials and specialized manufacturing technologies.
Key element found in Tech 21's products is the D3O, an orange impact protection material used by the military for impact protection on the battlefield and also used in other high-impact products such as sportswear.
What this material can do is to absorb the shock or impact and spread the shock evenly across the surface of the material.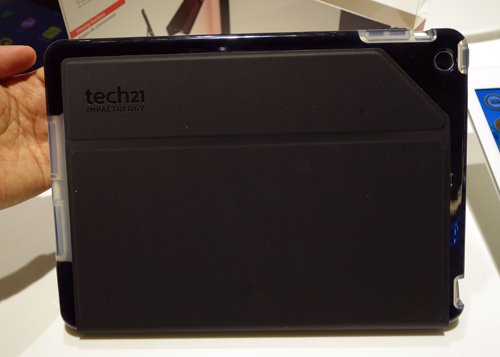 Tech21 Impact Folio: Protective Case for iPad Mini Retina
The Impact Folio case for iPad Air features a slim-fitting, flexible TPU shell integrated with FlexShock (for advance impact absorption through a unique geometric ribbing structure built to exceed MIL-ST 810G.516.6) that surrounds the device,
FlexShock absorbs and repels damaging forces away from the point of impact. Any remaining energy is dissipated through its molecular structure, away from your device. FlexShock's impact protective efficiency allows it to be ultra-thin for a remarkably lightweight design.
Features:
Advanced impact absorption through FlexShock and geometric ribbing structure
Built to exceed MIL-STD 810G.516.6 to 1.8m/6ft
Fully integrated folio cover
Multiple folio positions: landscape viewing and typing angles
Auto wake magnets
Mechanical button for ease of use
Available Colors: Grey/Brown and Black

Tech21 Impact Snap: Protective Case for MacBook Air and MacBook Pro

Impact Snap case acts as a permanent protective coat for your MacBook Air both while it is in use and in storage. It is created with a premium PC compound and features FlexShock.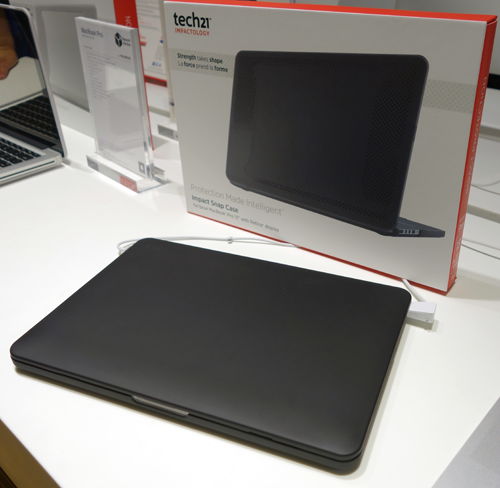 A slim-fitting design with an easy "snap-on" application together with access to all ports and controls makes our Impact Snap unbeatably user-friendly. A soft-touch finish completes this slim-fitting black case for MacBook Air which molds seamless around your device.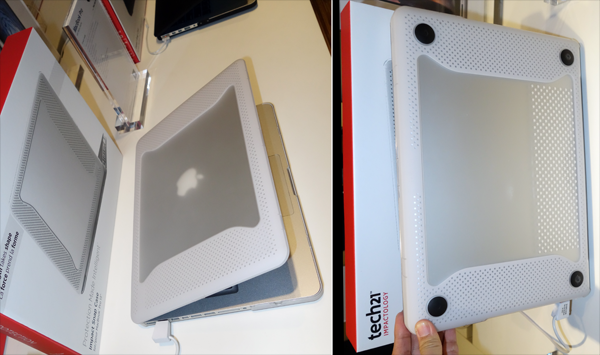 This Impactology case provides premium, minimalistic protection for your MacBook Air without concealing the original beauty of your device, and allows for viewing of the exterior Apple logo.
Features:
Strength takes Shape: FlexShock impact material which absorbs, dissipates and repels force upon impact
Slim-fitting, user-friendly design which molds seamlessly around your device
Easy "snap-on" application
Lightweight, with heavy-duty protection which compliments your MacBook
Protects the back and sides of your device
Impactology: Protection made Intelligent
Tech 21 protective cases are available at Beyond the Box, Beeper City, BZB Gadget Hive, Complink, Digital Arena, Digital Hub, Digital Walker, District 32, E-Central, Games and Gadgets, Globotel, Graphic All In, iBook, iCenter , iCon, iGig, Islands and More (NAIA T3), iStore, iStudio, JMB Albay Gadgets, Microstation, Mobile 1, R.O.X., Senco Link, Sole Patrol, Switch, Sync, Technoholics, The A-Shop, The Inbox Store, Vertex, Virtual Station, Wellworth Department Store, Wow Mobile.