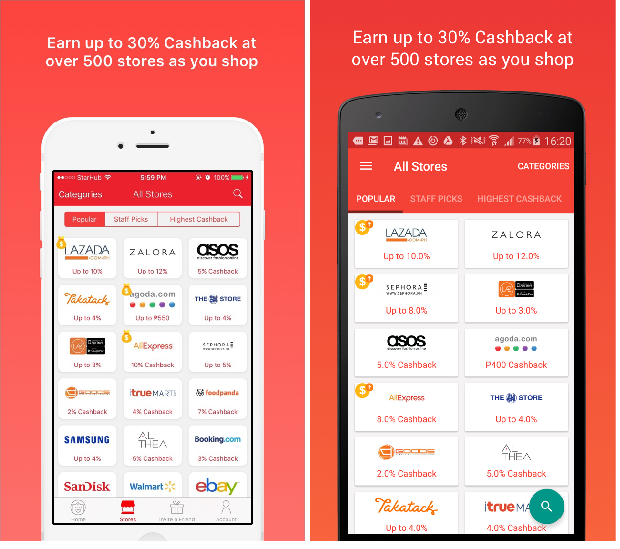 ShopBack Philippines officially made its debut as a mobile application, extending its customer reach beyond the desktop.
With the ShopBack mobile app, shoppers will be able to shop and save with greater convenience, at any time, anywhere from computers and mobile phones on Apple iOS and Android.
As part of the mobile app launch, ShopBack Philippines' shoppers are entitled to up to 100% Cashback for selected purchases made via the mobile app, including an Agoda hotel stay, best-selling items like Sandisk USB flash drives, inflatable sofas and more.
All purchases made through the mobile app will get an extra P50 bonus Cashback as well.
"Cashback literally means getting one's cash back," says Kristina Ay-ay, Country Head, ShopBack Philippines. "When we give shoppers Cashback, we're returning them some of the money that they've used for their purchases. For instance, if you spent P1,000 on ZALORA via ShopBack, we'll return P120 to you as Cashback."
For four days only (14 to 17 July 2016 inclusive), apart from serving exciting Cashback offers, ShopBack will also run raffle promotions to reward app users. Those who shop through the app will stand a chance to win fantastic prizes like an Elephone P9000 mobile phone from Lazada, VR Box, Benefit cosmetics set from Sephora Philippines and more.
Cashback is also stackable as an extra layer of savings on top of existing store discounts and credit card rebates. Apart from Cashback, ShopBack Philippines also secures exclusive coupon and discount codes from online stores to help Filipinos save even more on their online buys.
The shop-and-save Cashback concept that powers ShopBack may be new in Southeast Asia, but it is ubiquitous especially in the United States where shopping online and prudent spending go hand-in-hand. After seeding the concept via desktop for the past year, ShopBack Philippines is now prepared to take a bigger stride to further grow its presence here via mobile.
Fostering the growth of ecommerce in the Philippines
ShopBack uses a performance-driven model where retailers pay a commission to ShopBack only for successful purchases, which is a sound idea for retailers. In under a year, over 300 retailers have subscribed to ShopBack Philippines, including online stores such as Lazada, Agoda, AliExpress and CashCashPinoy.
"The number of e-commerce users is expected to reach 46.1M by 2020, which is an increase of almost 40% from today's consumer scene. This forecast is consistent with the 20% month-on-month growth that we've been experiencing for the past year. We're very bullish about the potential of the Philippines market," says Lai Shanru, Co-Founder of ShopBack in Singapore.
"Everyone loves a good bargain. ShopBack's shop-and-save concept in Cashback form serves as a good value proposition for both retailers and consumers alike. With our mobile app launch, we hope to serve fellow Filipinos better with the smarter shopping solution made available on more conveniently accessible platforms," Ay-ay shares.
ShopBack Philippines expects over 100,000 mobile app downloads within the next six months, with a 30% increase in users.
Headquartered in Singapore with an affiliate office in the Apart from the Philippines ShopBack, which is headquartered in Singapore, also operates in United States, Malaysia, India and Indonesia.
ShopBack is one of the pioneers who introduced a fresh spin to Southeast Asia's online shopping scene in September 2014.
Granting customers Cashback when they shop at over 1,000 online stores, ShopBack connects both online retailers and shoppers with a mutually beneficial reward system.
When a shopper makes a successful transaction on any retailer linked from ShopBack's website, the retailer who earns from the purchase will give a commission to ShopBack. Thereafter, ShopBack will share its commission with the shopper, who receives it as Cashback.
Experience ShopBack Philippines at https://www.shopback.ph (desktop) and app.shopback.com/pr (mobile app)
Follow ShopBack Philippines on https://www.facebook.com/shopbackphilippines
Watch ShopBack Philippines on https://www.youtube.com/watch?v=DfO7u9pt_kU