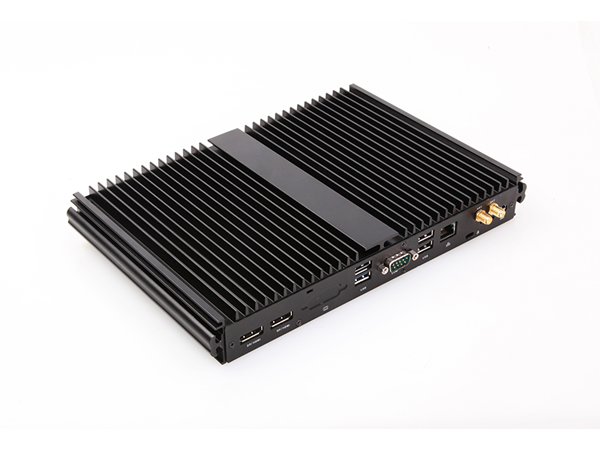 The Giada F300 is the latest fanless mini PC from Shenzhen JIEHE technology Development co., Ltd. This PC is recommended for use in digital signage.
The Giada F300 is a simple DIY barebones system that provides the user with the freedom of installing within, a hard drive capacity and type, RAM, and expansion card of your choice.
As a mini PC, the Giada F300 has portable dimensions of 260mm x 175mm x 35mm—making it unobtrusively tucked anywhere behind monitor.
Its chassis is fashioned like a corrugated heat sink, and as such already serves as an efficient and silent heat dissipater.
The Giada F300 is powered by an Intel Core i5-4200U dual-core Hyper threaded processor based on the latest Haswell U-series, which needs just 15 W TDP worth of cooling.
This means that it has very low cooling requirements even if it takes care of demanding computing tasks.
The low cooling requirement of this mini PC has enabled it to employ an Aluminum fanless cooling design, which also means that it operates silently. Clocked at 1.8 GHz, the processor can go up to a maximum Turbo frequency of 2.7 GHz when required.
The Giada F300 can support up to 16 GB of 1600 MHz DDR3L RAM via a single memory slot. A 2.5″ SATA III/SATA II hard drive or SSD can be installed as well to take care of storage needs. Expansion is supported via three Mini PCIE slots (Full-length for mSATA Ⅲ SSD; Full-length for PCIE/USB /3G; Half-length for PCIe).
The integrated Intel HD Graphics 4400 supports DirectX 11 for gaming.


This PC also features one Display Port 1.2 and one HDMI port or two Display Port 1.2 ports, which interestingly, also support 5.1-channel, surround sound audio.
The Display Port 1.2 supports PC resolutions up to 3200×2000@60Hz, stereoscopic 3D (to supported display devices), and HDTV resolutions of 720p and 1080p.
It can also be used to connect multiple monitors in a daisy chain with a maximum total throughput of 21.6 Gbps, thus making it ideal to be used with high-level digital signage.
The HDMI 1.4 output supports 720p, 1080p, and 2160p with 5.1-channel digital surround audio, allowing it to be hooked up to a big screen Ultra HDTV.
The onboard IR module with an infrared sensor on the front panel or through an IR adapter connected to a 3.5 mm jack can be used to control the entertainment system via a remote control, which can be bought separately.
In addition to digital audio via S/PDIF, there is analogue audio to connect widely available sound systems and microphone. Network connectivity is provided via a Gigabit Ethernet port, while you can even add a half-length Mini PCIE Wi-Fi 802.11 b/g/n card for wireless connectivity.
The system sports four Super Speed USB 3.0 ports (two at the rear, two on the front panel) to connect supported peripherals at high speed of up to 5 Gb/s (10x faster than USB 2.0).
Additionally, it has two USB 2.0 ports to make sure that you don't run out of USB ports. There are even two Serial ports to connect legacy devices.
Price and Availability:
The Giada F300 comes at the USD588,- with 1 year Warranty
Distributor:
GTI Software, Cebu, Philippines, Tel: +63 32 273-7540, email: sales@gtiinfotech.com
PC Basis Corporation, Manila, Philippines, Tel: +63 262 362 73