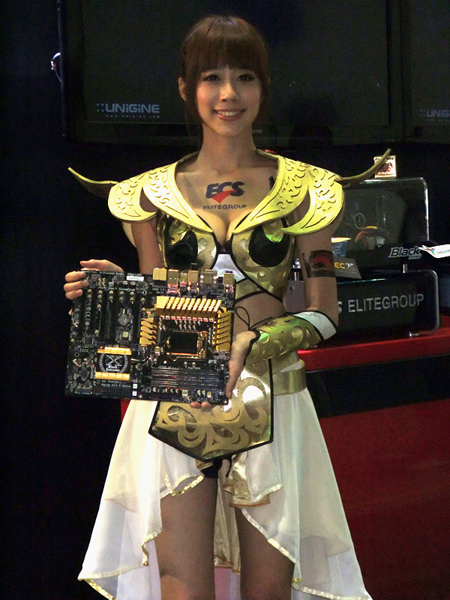 Elitegroup Computer Systems has launched the Golden Limited Edition Black Series motherboards—motherboards that literally shine because of gold plated parts—to cater to a niche market of gamers and heavy graphics users who demand performance and efficiency from their desktops.
ECS is a Taiwan-based global tech brand known for producing motherboards for desktops PCs and DIY (do-it-yourself) PC systems, but because of the popularity and proliferation of mobile computing devices, the company has been aggressively transforming itself to adapt to the needs of the times.
ECS These new high-end "Black Series" motherboards feature "Nonstop technology" and ECS' unique gold-plated Super Alloy Chokes, a new hardware technology. Chokes are a passive electronic component of a motherboard that reduces electromagnetic interference and most of chokes used in current motherboards have iron or ferrite material.
What differentiates ECS new choke technology is a heat-resistant material that only maximizes performance, but also enhances stability of the machine, according to David Chien, vice president for channel business unit at ECS.
The new material makes the motherboard withstand higher temperatures, particularly during the times when the PC is used for heavy computing demands and CPU overclocking, he adds.
"ECS' Nonstop technology is about features of the new motherboards that make the desktop already solve common PC hardware problems before they even occur," according to Chien. For example, the gold-plated heat pipes in the motherboard literally changes color, which is an indication the motherboard is adapting to different temperature setting.
"Nonstop certified motherboards comprises four comprises four interlocking tests and enhancements that combine together to protect PCs and defeat many of the most common causes of hardware problems and system instability," says Chien, adding that desktop PCs will transform into stable, reliable and powerful computing products for home and business use.
"Desktop PCs will still be used along other mobile devices that are now popular."
ECS has also launched the very first All-In-One (AIO) PC that is not only touchscreen capable, but can be upgraded easily much like a DIY PC. The 23-inch touchscreen G24 AIO features a tool-less chassis and a hard drive bay that makes it easy to insert or detach a hard drive.
Chien says the AIO segment is a growing PC market as consumers and even businesses are now favoring smaller desktops that save space and consume less power.
The G24 AIO are equipped with thin 23.6 inch full HD 1080p display panel with HDMI-in support. It is available on a built-to-order basis, allowing customers to choose parts and peripherals to include in the AIO product. The product's mini-ITX motherboard can also be easily changed or upgraded with an Intel H61 chipset-based motherboard to support next generation Intel processors. (Written by Miles E. Apostol and published in The Fornightly Newsmagazine, iTech section, June 16, 2012)
For the full explanation of ECS non stop technology, see video below: