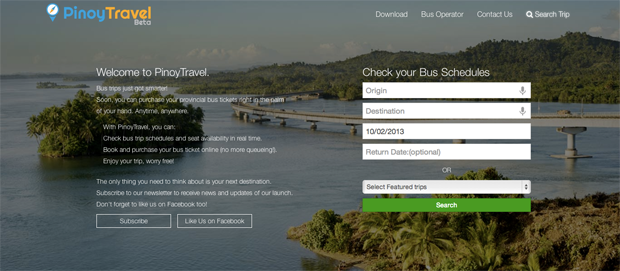 A new online provincial bus booking service PinoyTravel could save you all the hassle of booking a bus trip, physically, at the bus station.
The service, a first in the Philippines, was launched recently to give Filipinos and visiting tourists the convenience of checking bus schedules and booking their provincial bus tickets online.
To book for a bus trip to any destinations in the Philippines, commuters would only need to visit www.pinoytravel.com.ph or download the free Android app from the Google Play Store to browse for and book their tickets.
In the provincial bus industry today, consumers are often inconvenienced by the fact that they cannot book their tickets online, whereas it is already the common practice in the airline industry. Additionally, checking bus schedules requires the passenger to either call or go to the bus station to verify the trip schedules. With PinoyTravel, Pinoys now have a handy companion whenever they plan on leaving the metro by bus.
"PinoyTravel sets to revolutionize the provincial bus booking system in the country. It is a first-of-its-kind service in the Philippines that will help provide convenience and alleviate the difficulties of provincial bus commuters," said Au Soriano, President and Co-Founder of PinoyTravel.
The service was put together by Soriano and co-founder Maui Millan. Their PinoyTravel was recognized as part of the initial batch of incubatees of IdeaSpace Foundation, Inc., the technology startup incubation hub founded by the PLDT Group of Companies, during the IdeaSpace National Competition in March.
The non-profit foundation is supported by members of the PLDT Group, including First Pacific, First Pacific Leadership Academy, Metro Pacific Investments Corporation (MPIC), Metro Pacific Tollways Corporation (MPTC), MPIC hospital group, Philippine Long Distance Telephone Company (PLDT), Meralco, Smart Communications, Inc (Smart), Digitel, Sun Cellular, SPI Global, ePLDT, Indofood, Philex Mining, Maynilad, MediaQuest, and TV5.
"This solution aims to address the lack of an end-to-end public transportation solution that will help boost tourist visits to the country's various destinations, given the recent tourism boom. While airlines fly visitors to some of the country's best tourist destinations, this bus booking service will provide access to the last mile so travelers can reach more of the undiscovered wonders in the country," said Earl Martin Valencia, President at IdeaSpace.
Phase one of the service, which is now available to the public, will feature trip schedules of major bus companies plying the different provincial routes in the country.
Phase two of PinoyTravel, which will soon roll out, will then allow the commuting public to book, reserve and pay for their bus tickets online.