Tech companies are expanding to wearable technology to expand territories.
Epson announced its second generation Moverio smart glasses, an Android-powered wearable technology that enables blend of physical and digital worlds.
Presented at CES 2014 in Las Vegas, the Epson Moverio BT-200 is a true binocular display using a miniaturized LCD-based projection lens system and optical light guide in each side of the glasses.
The Moverio platform's advanced binocular optical system projects see-through overlays of digital content onto the real-world in the center of the smart glasses' field of view.
Enabling a seamless blend of the physical and digital world, the Moverio BT-200 technology platform makes a new world of augmented reality applications possible for consumers as well as commercial enterprises.
The Moverio BT-200 projects a stereoscopic virtual display with a 16:9 aspect ratio and a 23-degree field of view.
A 360-degree panoramic experience is possible through third-party software that takes advantage of the glasses' head-tracking features.
For viewing privacy, Moverio's projection system features unique light guide angles which prevent other people from viewing the projected content.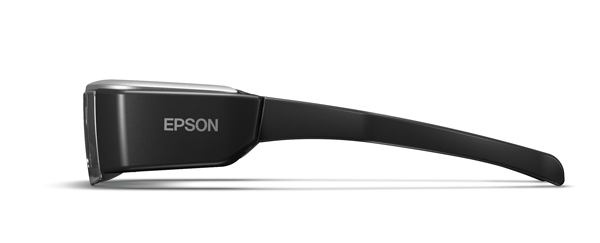 The compact Moverio BT-200 delivers an impressive list of features for augmented reality and digital entertainment experiences, including:
• Bright, transparent display with 960 x 540 pixel (qHD) resolution
• Sensors (gyroscope, accelerometer and magnetic compass) enable head-motion tracking for gaming and hands-free navigation
• A front-facing camera enables image and video capture as well as marker detection for AR apps that give users relevant information related to the real-world
• A handheld controller unit powered by Android 4.0 provides a robust open-source development environment and gives users access to a growing selection of augmented reality apps
• Built-in Wi-Fi® connectivity offers a wireless way to enjoy streaming video content while an optional wireless mirroring adapter enables streaming of high-definition video from content source devices with HDMI connectivity such as DVD players, set-top boxes and more
• Native support of MP4 with H.264 plus AAC encoding allows high-definition video playback
• Bluetooth 3.0 support allow wireless connectivity to headsets, speakers, keyboards and other peripherals
• A MicroSD card slot supports up to 32GB of external memory, allowing users to view and enjoy personal content like photos, videos and music even when wireless access is unavailable
• Dolby Digital Plus produces a full-body surround sound experience to complement the rich visual experience
"The Epson Moverio BT-200 smart glasses offer consumers crystal clear video as well as access to incredible new augmented reality experiences and relevant information according to their personal interests and needs," said Atsunari Tsuda, General Manager, Visual Products Division, Epson.
"Leveraging Epson's leadership in LCD projection technology and visual imaging, the Moverio BT-200's transparent display and powerful new features allow users a new way of seeing the world."
"In addition, the Moverio technology platform can serve as a foundation for designing highly effective visual tools in a wide variety of commercial and vertical market applications, including training, logistics, science, medicine, security, education and more," Tsuda said.
"Epson is currently working with premier organizations and development partners to bring these applications to market."
The Moverio BT-200 smart glasses are an example of Epson's open-source wearable tech and app-enabled products. Availability and launch date will vary by region and is yet to be announced.