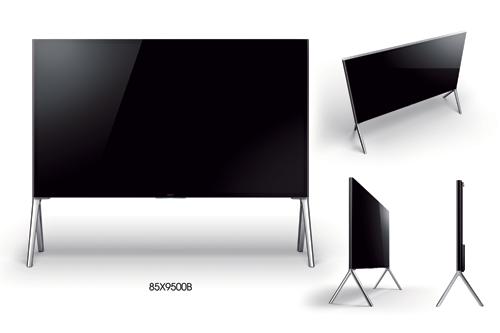 Sony Philippines recently introduced five new screen sizes for its BRAVIA 4K TV line-up, which include the X9000B Series available in an 85-inch screen size and the X8500B Series available in 70-inch, 65-inch, 55-inch and 49-inch screen sizes.
According to Nobuyoshi Otake, president and managing director, Sony Philippines, the company is focused on producing new TVs that feature bigger screen sizes for viewers to fully enjoy the quality of Sony's 4K technology, which is a resolution four times higher than that of a full HD TV.
Otake said consumers are shifting to bigger screen sizes with 4K technology, adding that 4K TV purchases have doubled in the last couple of years.
"For years, Sony has continuously worked to provide the most immersive home entertainment experience for its customers. With 4K's promise of clearer and sharper picture quality, we guarantee that our TVs depict images in such amazing detail, making them seem close to reality. We aspire to change the way people watch television and elevate the home entertainment experience," said Otake.
To demonstrate the high picture quality of its new BRAVIA 4K TVs, Sony presented videos made by esteemed directors from the local industry. Their works, which was done using a Sony smartphone and camcorders, portrayed the most mundane aspects of life in crisp, beautiful detail using the capabilities and magic of Sony 4K technology.
The four short films were shot in full 4K highlighting how it provides rich and delicate color tones compared with other technologies. Partner directors, Raz Dela Torre, Nico Faustino, Dino Narciso, and Paul Macasaet used Sony's 4K consumer camcorders FDR-AX1 and AX100 as well as the Sony Xperia Z2 that utilizes 4K technology.
The new BRAVIA 4K TVs are equipped the 4K X-Reality PRO processing engine that analyzes and processes every image to refine color, clarity and detail for a beautifully natural picture.
Additionally, viewers are treated with TRILUMINOS Display technology that creates incredibly true, natural shades of colors. Images are presented in rich, authentic colors with subtle tones all the while replicating natural and bold colors including hard-to-reproduce reds, aqua blues, and emerald greens.
By assimilating QD Vision's Colour IQTM optical component with Sony's unique display technologies, these televisions achieve significantly wide color range and provide a far more natural and brilliant viewing experience with a heightened sense of depth.
Sony also features its exclusive X-tended Dynamic Range PRO technology that utilizes a full array of local dimming that produces contrast beyond comparison and a widening dynamic range. Bright whites and dark blacks are controlled with fine detail.
Another unique quality from Sony's lineup is its promise of big and powerful sound with the use of its ClearAudio+ technology, which combines a variety of Sony's unique audio digital processing technologies to produce high-quality sound.
Some of the new TVs also have Long Duct Speakers that provide richer sounds with solid bass audio for your total entertainment. Others, meanwhile, are equipped with the Bass Reflex Box Speaker that provides a more intense and focused sound, enabling users to hear every detail clearly.
The new Sony BRAVIA 4K Ts also offers Social Viewing capabilities that integrate uninterrupted video-conferencing as the technology eliminates echoes to ensure clear conversations, as well as provide you the opportunity to view live tweets and share moments with friends via Skype, all happening simultaneously while watching on a Sony TV.
To complete the experience, the X series TVs also offer its One-Flick Remote feature that can instantly pull up a short cut menu that lets users navigate their favorite TV channels, networked photos and online videos from YouTube, Crackle, and Video Unlimited. This is Sony's answer to stress-free selection of your favorite channels.