Marshall Headphones, together with Marshall Amplification, just released in the Philippines Stanmore Brown, the brown color edition of the successful Marshall Stanmore speaker, which has already established a cult-following. This is no surprising as can be seen on the physical built of the speaker, a retro design and leather feel that bring both quality sound and oomph to any personal space.
The new Stanmore Brown is now available at Php19,950 at Astrovision, Astroplus, Beyond the Box, Digital Hub, Digital Walker, E-central, Egghead, iCenter, iStudio, JMB Albay Gadgets, Listening Room, Mobile 1, Quicksound, Switch, and Urban Superior.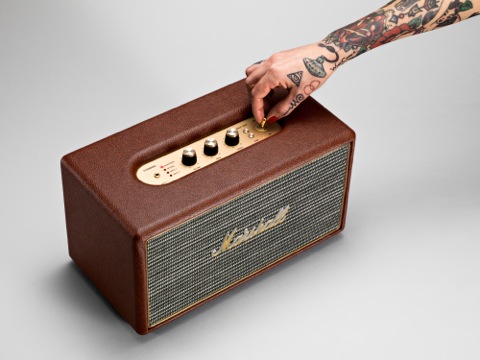 The Mashall Stanmore is also available in two classic colors black and cream. This third Marshall edition, the iconic Brown, moves Marshall's heritage of big stage performance out of the arena into your personal space.
The Marshall Stanmore Brown bears the characteristic script logo, vinyl casing and vintage-inspired fret grille cloth, making it an instant rock classic. Its compact size also makes it a perfect fit for smaller spaces you need to fill with big sound.
Smart in size and never subtle in sound, the Stanmore Brown features a compact active stereo speaker that yields clean and precise audio even at high levels. The analogue interaction knobs give you custom control of your favorite music, designed to attain that trademark Marshall tone.
For more information regarding the sales and distribution of Marshall products, visit http://www.facebook.com/digitstrading or follow them at https://twitter.com/digitstrading.