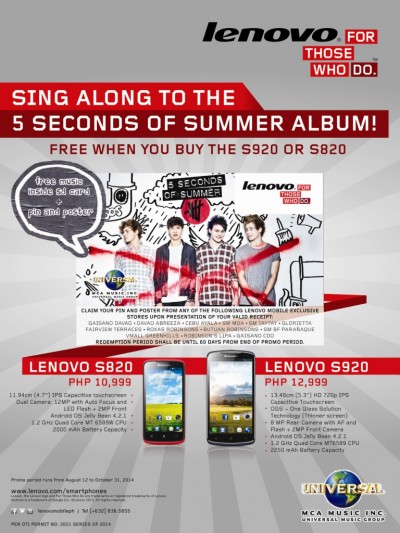 Here's some good news to people looking for a nice gadget promo offering. Lenovo Philippines is offering a free Micro SD card containing 5 Seconds of Summer songs with every purchase of Lenovo S820 or Lenovo S920 smartphones. Another enticing offer includes a free Guardians of the Galaxy soundtrack that comes with every purchase of Lenovo Vibe X smartphone or Yoga Tablet 8 / Yoga Tablet 8 Wifi. These offers are from August 15 to October 31, 2014 at all authorized Lenovo resellers.
A mid-range price smartphone, the Lenovo S820 features 4.7″ IPS Display 280 x 720 HD resolution display showcasing an 178° viewing angle perfect for viewing videos with your group of friends. It has has a 12MP rear camera and 2MP front camera for infinite pic for infinite picture-taking sesh.
It is also a dual-SIM phone and offers 4GB of internal memory that can be expanded to 32GB microSD.
The Lenovo S820 is powered with 1.2 GHz Quad Core Android 4.2 Jelly Bean processor for a faster and smoother response. What's more to that is that you can enjoy longer call time with its 2000 mAh long-battery life delivering up to 25 hrs on 2G, 12 hrs with 3G, and up to 20 days active standby.
Another mid-range priced Lenovo handset is the Lenovo S920. It features 5.3″ IPS Display 1280 x 720 HD resolution display. It has a fast 1.2 GHz Quad Core processor working on Android 4.2 Jelly Bean. Its camera is an improved 8MP Autofocus rear camera with LED flash and is supported by the Smart Camera Software that allows users to multiple editing and correction tools. It has also dual SIM capability, 4GB internal memory and is expandable to 32GB MicroSD card.
Among the premium line, the Lenovo Vibe X smartphone is remarkably thin and unbelievably light, measuring 6.99mm and weighs less than other smartphones at just 121 grams (0.26lbs). It comes with a premium polycarbonate silver or white body and a laser-engraved 3D tactile finish. It boasts of a 1920×1080 full HD resolution, an IPS panel for wide-viewing angles and ultra-sharp 440 pixels per inch (PPI).
The Lenovo Vibe X packs two advanced cameras, five megapixels (MP) high resolution front camera and a wide-angle 84° lens and 13MP auto-focus rear camera with an LED flash and a back-illuminated sensor that's perfect for capturing sharper images.
Distinguishing itself from other tablets out there, the Yoga Tablet features three unique modes, giving consumers a better way to use a tablet.
With hold, tilt and stand modes, the tablet adapts to the way people use it instead of forcing people to adapt to the technology.
Additionally, the Yoga Tablet offers an impressive of up to 18 hours of battery life to truly fit users' ultra mobile lifestyles. The 8-inch Yoga Tablet is available in both black and silver colors.
Extremely mobile, the Yoga Tablet 8" is featherweight weighing in at 0.88 lbs. It features a high definition 1280 x 800 display, a 5 MP auto focus rear camera plus an additional 1.6 MP front camera, 16G EMMC, and Bluetooth 4.0. The 8-in model also has WCDMA with phone features, and allows users to make calls and send SMS/MMS messages.