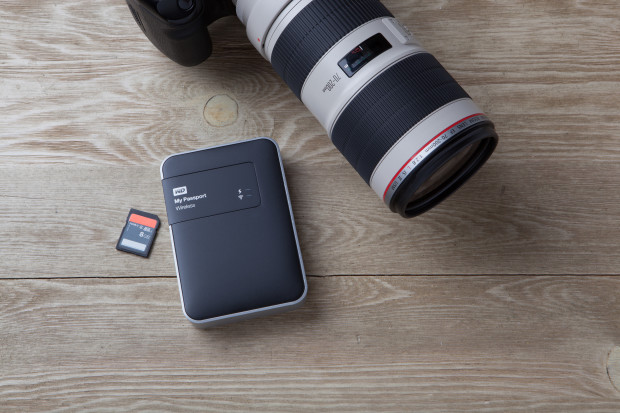 This could probably be your situation right now: You're on an outdoor trip, trekking a mountain to some nice spot near the top and along the way you keep taking pictures using your DSLR and smartphone. Once you're on top, there are more views to capture and to document with your camera. But you just don't take single shots, you take multiple pictures of the same scene or subject—because you want the perfect shot like what professionals do. After all, you want to make the most out of that rare trip so you want to make sure everything's documented and stored. But the SD storage in your devices can only save so much. Large capacity storage cards are already available but they still carry hefty prices. Don't you wish you have a portable storage where you can wirelessly transmit your files and make more storage room in your camera to take more pictures?
Storage manufacturer WD recognized this dilemma encountered by photographers and multimedia practitioners when they're on the field doing work by introducing the WD My Passport Wireless.
In a recent "WD Photowalk" event organized by the company for media practitioners and bloggers, WD officials demonstrated the convenience of carrying a WD My Passport Wireless storage when doing photo shoot outdoors. The WD Photowalk had the participants go up Taal Mountain to undergo an outdoor wedding photography seminar by RV Mitra, a well-known wedding photographer in the country.
The WD My Passport Wireless is like any portable storage you'd see–large capacity portable drive with up to 2 TB. But what makes it distinct is its wireless capability, including an SD card slot to allows you to transfer files immediately to the storage without the need of a laptop. It also features a USB 3.0 port.
The storage's Wi-Fi feature can also work independent of a wireless router, allowing your devices to have its own wireless network, which is particularly useful when you're outdoors doing your photography. For this function, you can connect up to eight devices allowing the user to upload content or access content from the storage using a smartphone, a tablet, or a laptop.
In addition, you can also use the WD My Passport Wireless as a wireless repeater for an Internet source. It is able to connect several devices to a single source of Internet connection. This is useful when staying in hotels that only allow one or two devices to be connected to its network.
Like your wireless router at home, it features Wireless N with MIMO technology for enhanced wireless performance so that users can access and transfer files quickly, as well as stream up to four HD videos simultaneously.
The storage's built-in rechargeable battery provides up to six hours of continuous streaming and up to 20 hours of standby power making the drive a perfect travel companion.
There's also a useful software that comes with the product. The WD My Cloud app (for Android and iOS devices) helps unify all of a users' content under a single app and user interface. The app allows access to content on the My Passport Wireless drive, the WD My Cloud family of personal cloud storage, and on major public cloud services such as Dropbox, OneDrive and Google Drive.
The storage also connects to compatible wireless cameras so that users can automatically transfer photos from their cameras to the drive as they are taking them.
The WD My Passport Wireless is available in 500 GB, 1 TB or 2 TB capacities.