To become a total productivity tool, tablets are paired with a keyboard or pen to provide the experience of using a laptop and writing on a screen surface. Thus the arrival of 2-in-1 devices such as Microsoft Surface and iPad Pro.
But with the arrival of the new Lenovo Yoga Book, the idea of tablets as productivity tool goes a notch higher. The halo keyboard found in the Yoga Book allows for the use of a keyboard or a writing/drawing pad–depending on how you would like your input. Once the keyboard input is activated, you see lit flat letter keys–as there are no physical keys. But once the keyboard function is deactivated, the lit keys become invisible leaving you with a black pad to write or draw onto.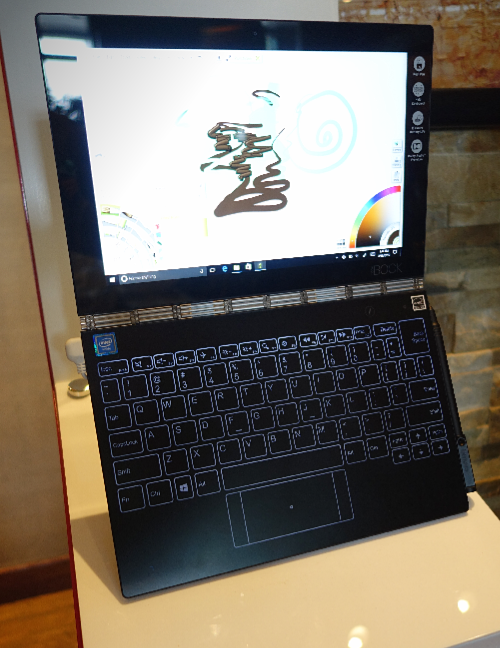 And these are not all the stuff that make the Lenovo Yoga Book a little extraordinary. The "halo" technology also allows for writing on a paper placed on top of the halo keyboard (with the keyboard function disabled) and whatever you write or draw on the paper is mirrored onto the screen. In this manner, written or drawn stuff are digitized and saved automatically on the device.
By the way, the pen that comes with the device functions a real pen when writing onto the paper.
Amanda Dy, 4P manager for tablets at Lenovo Philippines, presented the wonderful Yoga Book to the local media and bloggers. Her demonstration of the features of the 2-in-1 device is seen in the video above.
The new Yoga Book is  just 9.6 mm thick, weighs only 1.52 lbs, and features 10.1″ IPS FHD display. It comes in two versions: Android and Windows 10, which is priced higher. Battery life as claimed is at 15 hours. As an LTE capable device, the Yoga Book has a SIM slot (nano SIM) and the processor is Intel AtomTM x5-Z8550 (2M Cache, Quad-Core, up to 2.4 GHz). Internal memory is at 4 GB and internal storage is at 64 GB. Ports found on the side of the tablet include slot for micro SD card (which can support 128 GB more storage) and  micro HDMI.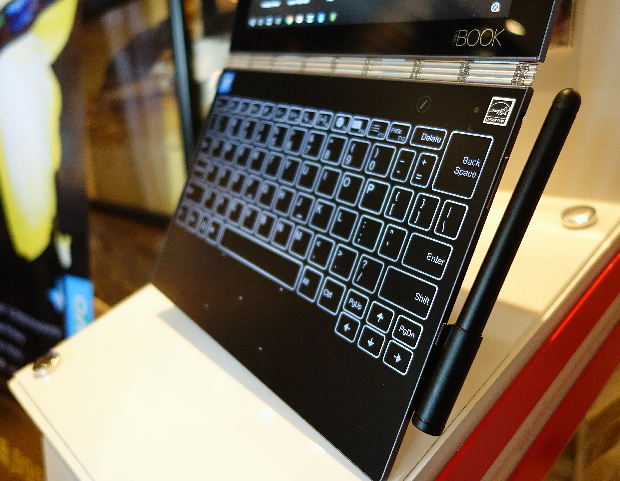 The Yoga Book will be available in select PC Express stores from Oct 15 to Nov 15, 2016 at a starting price of Php 23,999 for Android version and Php 28,999 for the Windows version after which it will be available in all LES nationwide.