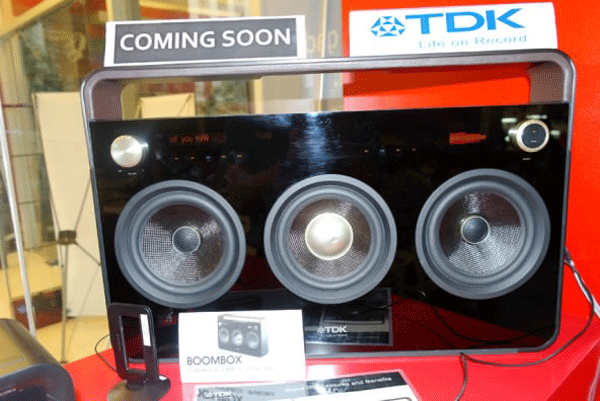 This is the TDK's Three Speaker Boombox. It has a design that reminds of the original Boombox, the huge cassette player carried by hip hop enthusiasts back in the 1980s.
At hefty 26 pounds, the Three Speaker Boombox is a 2.1 speaker system that features left and right chambers that boast of 6" coaxial drivers with woven fiberglass cone and edge-driven textile dome tweeters. To further up the amp and sound pleasure, there's also the presence of a 15 watt sealed subwoofer in between.
In addition, it features a 2.6 inch full color LCD display with capacitive touch keys for input selection and equalizer adjustment. As the "heartbeat of the device," the LED display creates a strong visual connection with the music during playback. It allows the consumers to customize their listening experience through bass and treble controls. They can even control playback of music from a USB drive or hard drive or mix audio sources using the instrument input.
Apart from being a dock system for MP3 players such as iPod, this humongous speaker also functions as a digital amplifier for analog devices like electric powered acoustic guitar or practically any music instrument with RCA jack, which can be connected to it via the 3.5 mm RCA stereo jack.
Featuring a P30,000 plus price, every part of the Boombox speaks volume of premium quality—the padded handle is made of aluminium, the front face acrylic, the controls made of anodized champagne aluminium and it is unusually big and heavy.