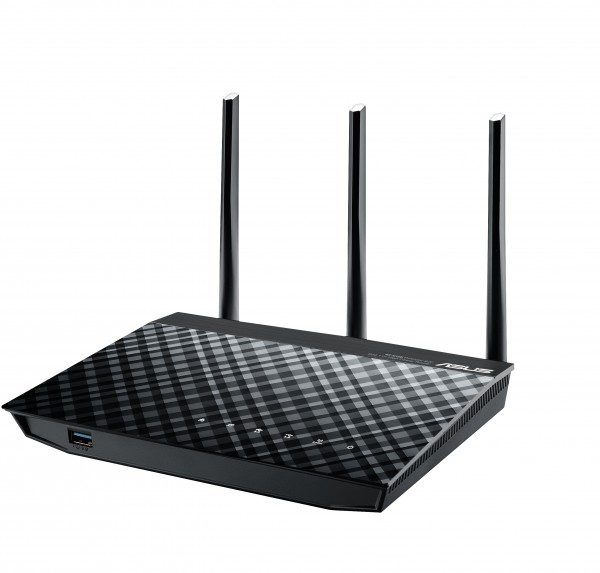 Looking for a high quality router for your home and yet within your budget? The new Asus RT-N18U is something you might want to try. It is a high-powered 2.4 GHz 802.11n Wi-Fi router that uses a turbo technology (TurboQAM) to provide speeds of up to 600Mbit per second.
A router with powerful hardware specifications, intelligent wireless technology for maximum multi-room coverage, a user-friendly interface and exclusive built-in applications, the Asus RT-N18U will be available in September with an SRP of Php5,490.
The router features both USB 3.0 and USB 2.0 ports plus Gigabit Ethernet connectivity. The two USB ports allow users to share printers and 3G/4G dongles easily, or connect USB storage devices for high-speed file sharing or audio and HD video streaming.
The Asus RT-N18U is powered by an energy-efficient ARM Cortex-A9 processor running at 800MHz that ensures fast and responsive performance. The 128MB of Flash memory and 256MB of DDR3 RAM further enhance multitasking performance and allow up 300,000 concurrent data sessions — making this router ideal for multimedia applications such as HD video streaming, online gaming and file sharing.
Its TurboQAM technology can boost the speed of the router up to 33% compared to a standard 802.11n devices, thus you can enjoy maximum speed from speed from 450Mbit/s up to 600Mbit/s for media downloads, uploads, streaming and other multimedia demands.
Fast, reliable and stable connections are guaranteed by ASUS AiRadar technology, an intelligent combination of high-power amplification, RF tuning and universal beamforming that improves coverage by up to 150% compared to standard 11n models , and also ensures backwards compatibility with older Wi-Fi standards. AiRadar makes RT-N18U the ideal solution for multi-room usage.
The Asus RT-N18U can also be configured to operate in three other useful modes. Range extender mode improves the wireless coverage of an existing wireless router, access point (AP) mode is used to add wireless access to an existing wired network, and media bridge mode is handy for adding wireless capability to wired network devices, such as games consoles or TVs.
The Asus RT-N18U is also easy to setup. A three-step process setup will take only 30 seconds. Simply connect it to the network and open a web browser to start the Quick Internet Setup wizard. The intuitive graphical interface of the ASUSWRT dashboard makes it simple to configure the advanced networking features, such as quality of service (QoS) prioritization.
(QoS allows users to optimize, control and monitor the internet bandwidth usage for any application. Other advanced features include network mapping and a traffic monitor for checking internet data usage.)
The router also has ASUS AiCloud feature, which transforms USB-attached storage into a personal cloud server, for easy remote file access and media streaming from a laptop, smartphone and tablet. AiCloud can also automatically synchronize USB-connected storage with other compatible ASUS routers, for easy sharing of large files with family and friends.