Elitegroup Computer Systems Co., Ltd., (or popularly known as ECS) has finally brought to the Philippines its mini PC kit called the LIVA. The LIVA, which features dimensions of 56mm x 70mm x 118mm, has a suggested retail price of at Php8,888.
LIVA is among the commercially available Next Unit of Computing (NUC), a small form factor PC designed by Intel. According to Rafael Aligada, product manager at Iontech, which distributes ECS products in the Philippines, the LIVA mini PC has become popular among do-it-yourself PC enthusiasts in the Asian region. One reason of its popularity is its packaging and design that allow the users to have fun while assembling their mini PC. The LIVA comes in parts that you need to assemble, such as a tiny motherboard, WiFi/Bluetooth card, and case.
The LIVA specs include an Intel system on chip (SoC) processor Bay Trail-M based on the new low-power consumption microarchitecture Silvermont. As to its storage, the LIVA packs in either 32 GB or 64 GB through an embedded Multimedia card (eMMC), the one used in smartphones and tablets. Internal memory is at 2GB DDR3L and it's no longer expandable.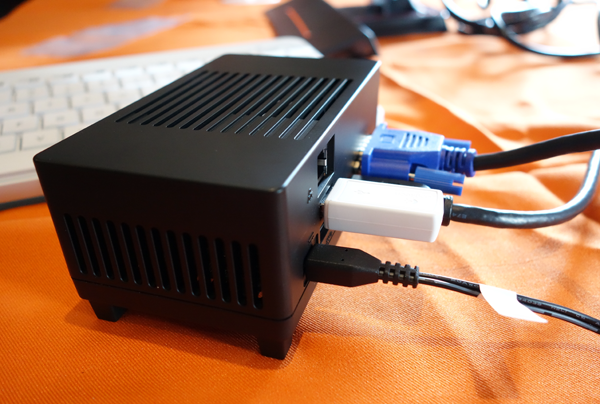 The LIVA supports dual monitors with its HDMI and D-Sub ports (located at the back). It's got one Gigabit LNA, 2 CH (channel) combo jack (for power supply), one USB 3.0 port, one USB 2.0 port.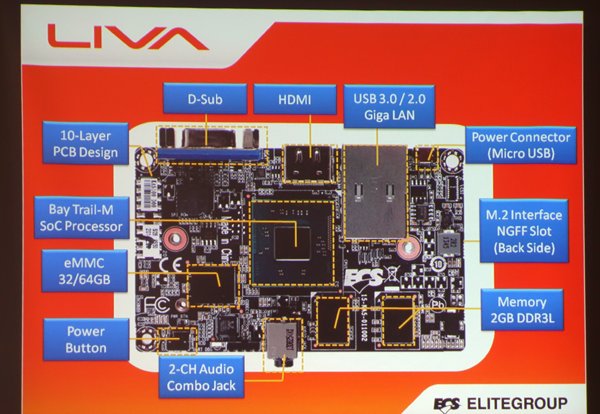 The LIVA supports Windows 8.1 (and not lower versions of Windows). When purchased, it is preinstalled with the free Ubutu OS, but if you need to run Windows 8.1 on it, you need to purchase the OS separately.
The power consumption of the LIVA, which already features a fanless motherboard design, is only 15 Watts. The power requirement is so low, you can use a power bank to boot up this small PC.
According to May Chuang, specialist at ECS Taiwan headquarters, the LIVA is targeting first time PC buyers, consumers who want a second PC at home or those who wish to transform their dumb TVs into a smart one, and schools.
Some uses of the LIVA: